conjurer

(Online)

ASSHAT & Master of Time
Posts: 31515
Joined: July 13th 2010, 10:00pm
Contact:
Missed it by that much.
This will be a tough one to write, given my love of Orient watches. In an earlier review (
http://bdwf.net/forum/showthread.php?t=78526
) I called Orient the best watch company on the planet, and here's why: there simply are no other companies in this price range (excepting Seiko) that I know of who use manufacture movements and produce such superb product as Orient at a real world price point. Certainly, they won't compare to appallingly expensive Swiss brands which make their own movements in terms of sheer luxury, but when they cut corners, Orient does it right. Usually.
Which brings us to their newest dive watch, the M-Force 200m: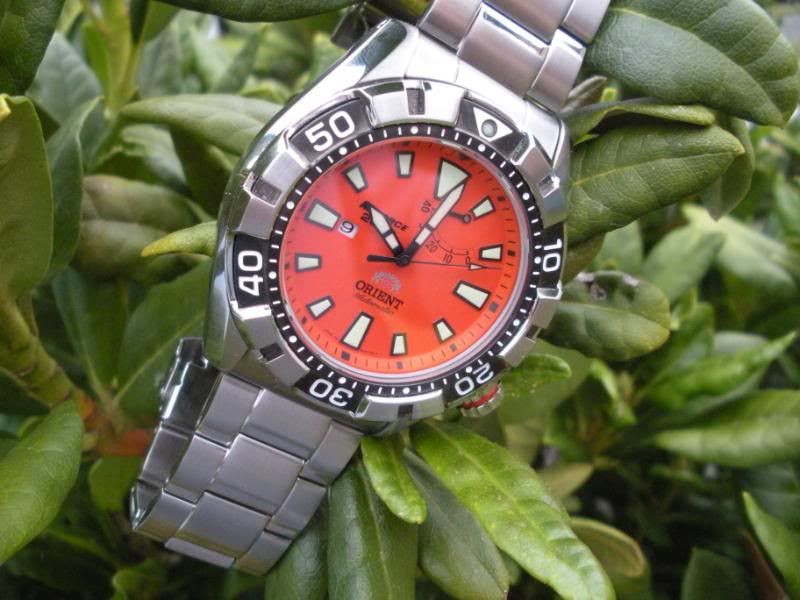 This is a big (46mm) baby with the standard Japanese reticence for overhyping their water resistance claims. According to the Orient website, it meets all ISO standards for diving watches, shock resistance and anti-magnetic qualities. It also doesn't even claim the standard "Diver" mantle on the dial, relegating it to the caseback in very small print. I don't know if this is due to Orient's lawyers preventing a lawsuit from some schlub's estate for said schlub turning into shark poop or the traditional Asian self effacement. But, if you believe Orient's website's claims, which I do, you have here a true divers watch.
All the other important stuff is there, too; the orange dial, which Doxa made so popular, the decent lume:
As well as a good bezel, screw-down crown, and even tossing in a power-reserve indicator at the top-right of the dial as well. There's a sapphire crystal, and, a nice addition, lug-holes to make strap-changing easier.
Inside the case Orient makes a bold jump into the 1960's by using their newest movement, the 22 jewel 40N5A automatic caliber which both hand-winds and hacks better than a tubercular Scotsman. A big step forward, since Orient traditionally uses their older shake-and-bake movements that don't hack. This is really the big story here with the M-Force; the movement winds nice and smoothly, not quite as nice as an ETA 2824 or 2893, but without the sand-in-the-gears gritiness of a Miyota. The hack works well, too, not making the minutes or seconds hand jump. It's also a good runner; I timed it to about +5 seconds a day, with all of the variation hitting at night, when I had the watch off and laying face-up on my night stand. On the wrist or a winder, it's even more accurate, perhaps a couple seconds a day fast. The crown shows a little wobble when fully extended, and there's a bit of grit when screwing it in--one feels a little worried about crossing threads. There's also a slightly alarming thing that occurs when the crown is pulled to its hacking/time-setting position; the entire dial moves inside the case ever so slightly (you can see this for yourself on Orient USA's own video of the watch, at right around the 1:50 mark.) While this is probably not too much of a problem, it kind of goes to show the overall quality of the construction of the watch.
In terms of the case, the M-Force is remarkably well made: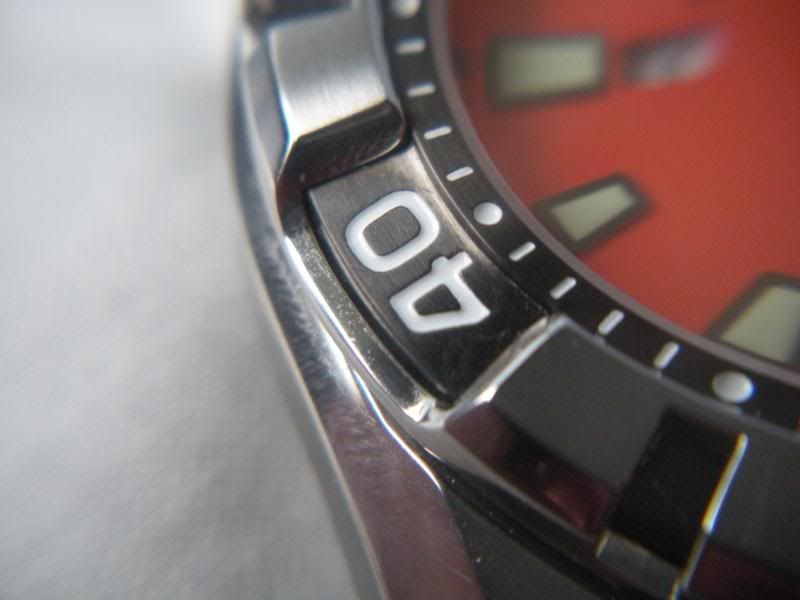 The dial is spare and very legible, with I suppose silk-screened printing:
The time is readable in just about all lighting conditions, and the lume passes pretty well the Conjurer-quick-glance-in-a-dark-car test. Saying that, the lume could be much better, considering the price of the watch and the fairly large areas that are painted with the lume material. It's not as good as the Seiko Monster, but then, few watches are. It doesn't last as long, either; it fades rather quickly, and will not last the entire night like big globs of Lumabrite or Super Lumanova will.
And now, sigh, time to talk about the bracelet.
This is where Orient really dropped the ball. It looks a little like the Monster single link bracelet, only not as good. From a few feet away it looks like a standard oyster-style, but this comes from a little sleight of hand; the big links are brushed while little portions at the bottom are high-polished:
The M-Force also uses a pretty cheap stamped metal diver's push-button clasp:
And, nightmarishly, folded-endlinks: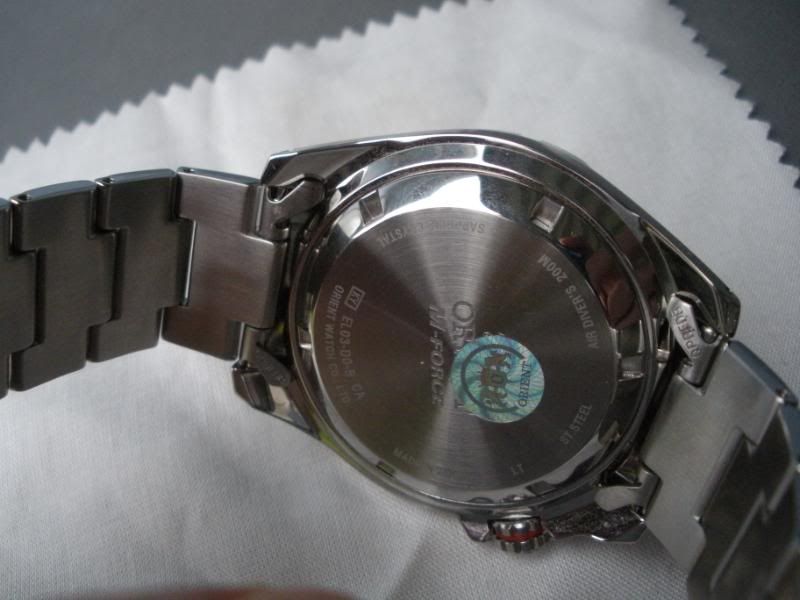 There is no wetsuit extension. The bracelet, which is 23mm wide (good luck finding a good rubber-strap!) and non-tapered. While many guys prefer the non-tapered bracelet, I like them myself. I find them a little more comfortable and they also give a little more feel of quality. The entire thing is held together by the imbecilic pin and collar system, and for the life of me I can't say why. Orient didn't have to go to the expense of screws, but they could have used standard friction pins.
On the wrist the M-Force looks and feels pretty good: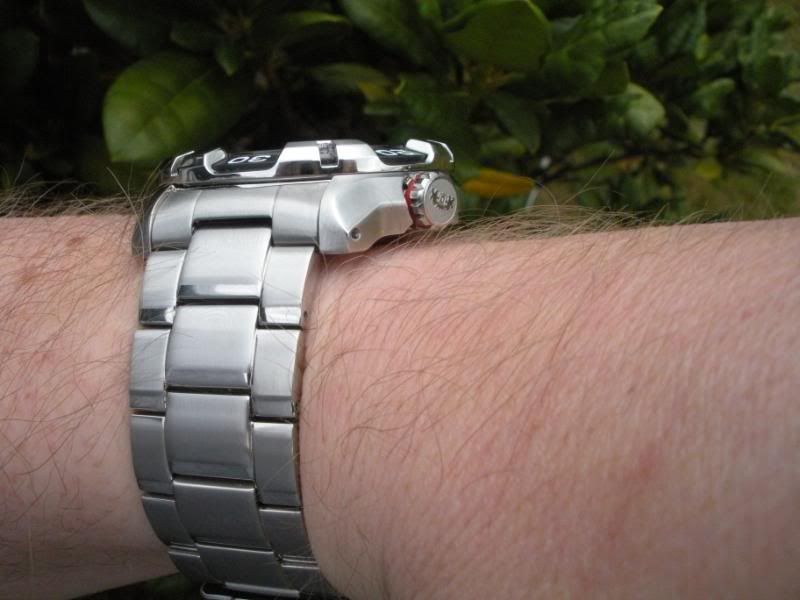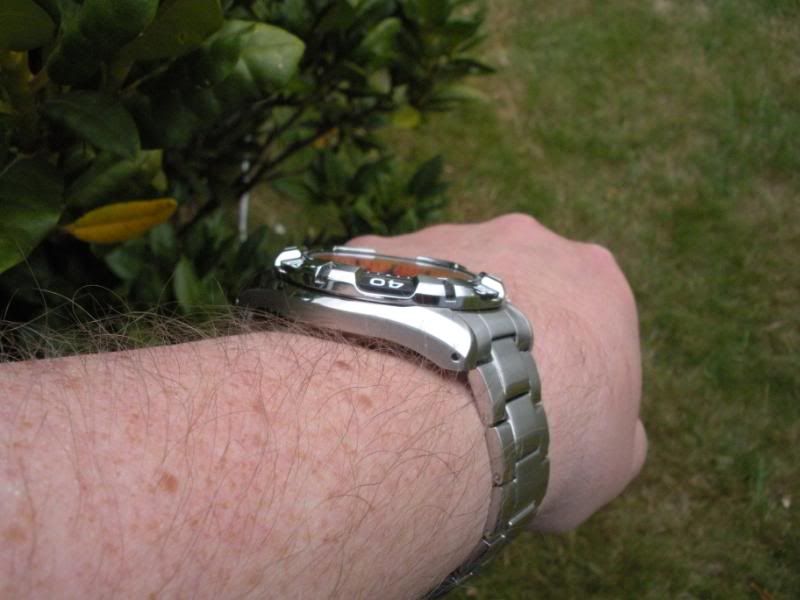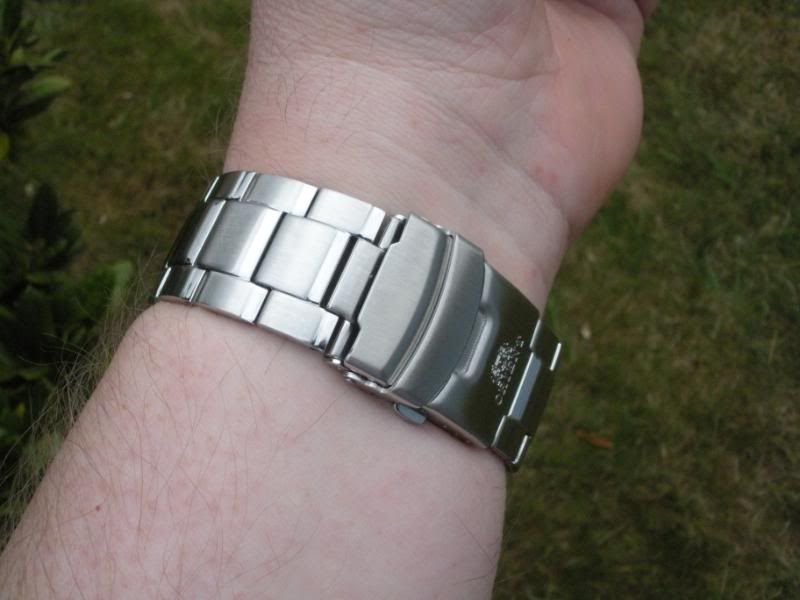 Even with the bargain-basement bracelet, the M-Force is well balanced, and not too-tall on the wrist for its girth. Orient specs it at 13.3mm tall. I find that most divers in this size range are simply too thick and heavy for me to wear all day--they bang on things and get in the way and seem too top heavy. By keeping their real-world not's-get-nuts WR rating of 200 meters, Orient came up with a nice compromise in size.
Another nice thing about the M-Force is the presentation box: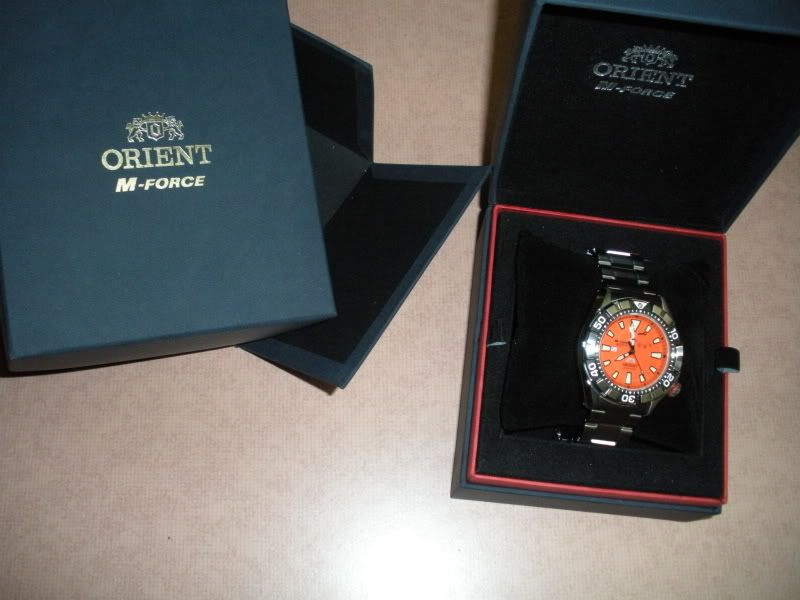 While nobody's going to confuse it with an IWC or JLC box, it's big and nice and well made and it makes you feel like you've bought something of value, not just the bare-bones packaging that you normally see with a Mako.
So, what have we got here? A damned near classic that's also absurdly flawed; a thousand-dollar case held to the wrist by a twenty-dollar bracelet. Comparing it to other Orients, I find the case better than the older Air Diver, especially the bezel, which is tighter, easier to read, and not as cluttered. Interestingly, for all the faults of the M-Force bracelet, which are legion, I like it better than the Air Diver's--the AD's bracelet I felt was too thin, a little too effete, although better made. The AD's clasp was infinitely better than the M-Force's. Comparing the M-Force to the Excursionist, the cases are close, but the Excursionist, which is a little more than half the price of the M-Force, has a better bracelet as well.
Comparing the M-Force with Swiss stuff out there, let's look at power-reserve manufacture movements from Switzerland around for under a thousand bucks--well, there ain't any, as far as I know. The only one that can come close is the new Doxa Sub with the ETA 2897, and of course that isn't a manufacture movement.
Price wise, the M-Force has an MSRP of around $720 US (depending where you shop on the net.) The street price is half that at Orient USA, where I got it (with very fine customer service, too) while most of the Japanese websellers are asking around $500 and up. Is it worth the street price? Well, yeah, and then some. At the MSRP or at the Japanese websites prices, you'd have to sit down and think some. At half a grand, you start to run into some serious competition, manufacture movement or no. You're into Debaufre/Steinhart territory, and also into the more boutique brands, although you'll have to settle for a Rolex homage.
What Orient should do, forthwith, is offer a really good rubber strap to fit the M-Force, or at least go back to the drawing board and have somebody with a few brain cells redesign the bracelet. This is a very good watch that stumbled badly; adding another fifty bucks to the MSRP and making a bracelet that measures up to the rest of the watch would make everyone happy.
A guardedly recommended buy.
Last edited by
Anonymous
on August 19th 2011, 8:32am, edited 1 time in total.
My little brain can't even comprehend how deep that is.

--beefsupreme, commenting on his super rare Deep Blue wartche