koimaster

(Online)

Founder
Posts: 44960
Joined: December 16th 2009, 11:00pm
Location: Oregon, Thanks for visiting! Now go back home!
Contact:
As an aside to this post, I looked and have not been able to find an ad in the US or Europe for Doxa after 1974. Also missing is any link to Cyma or Synchron.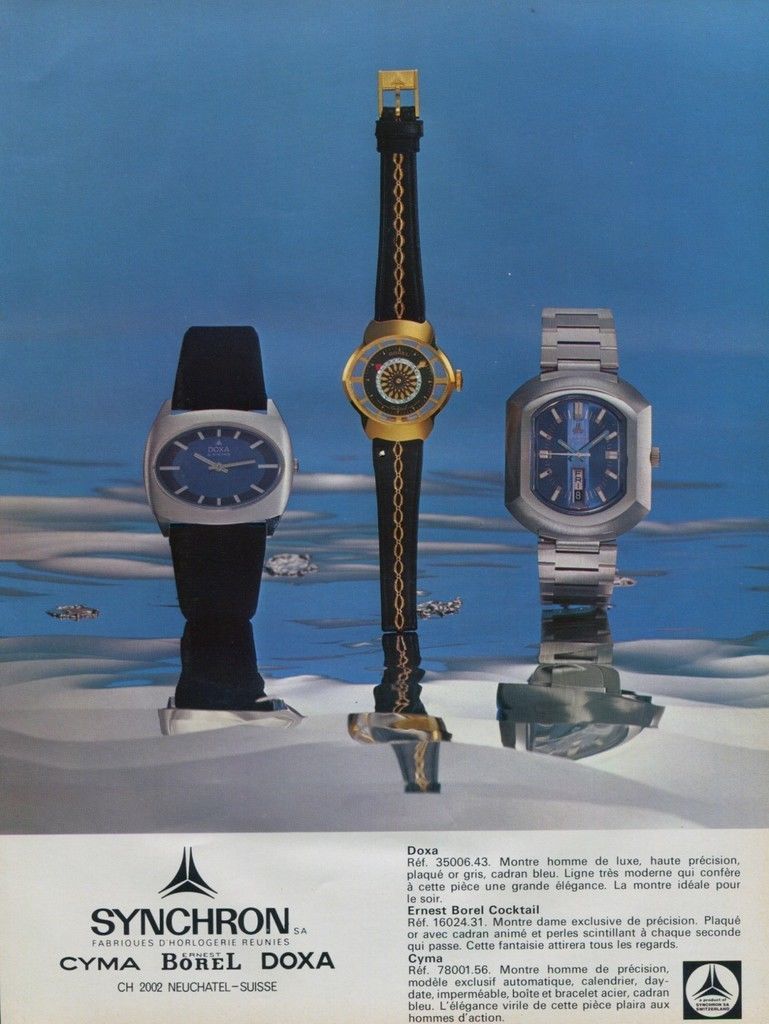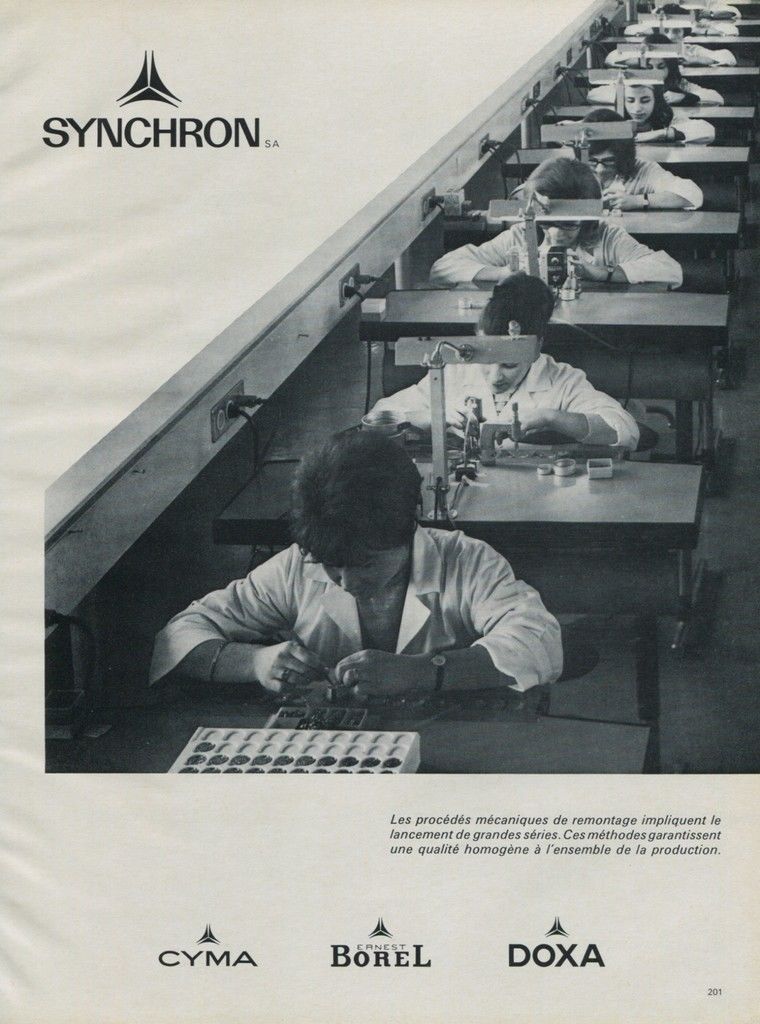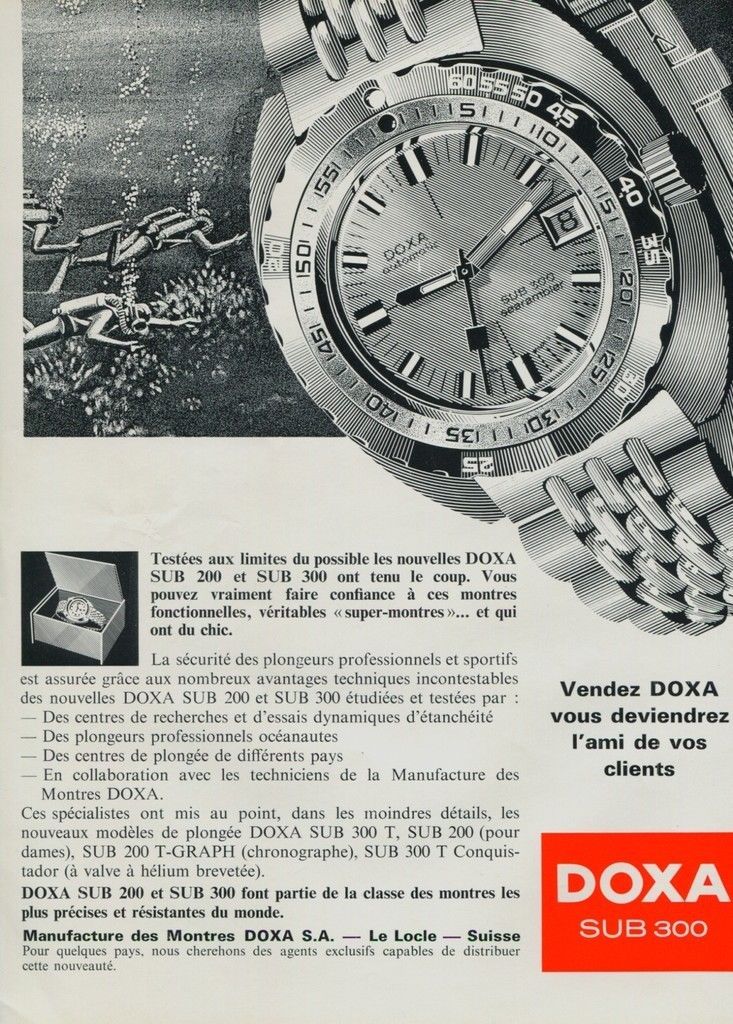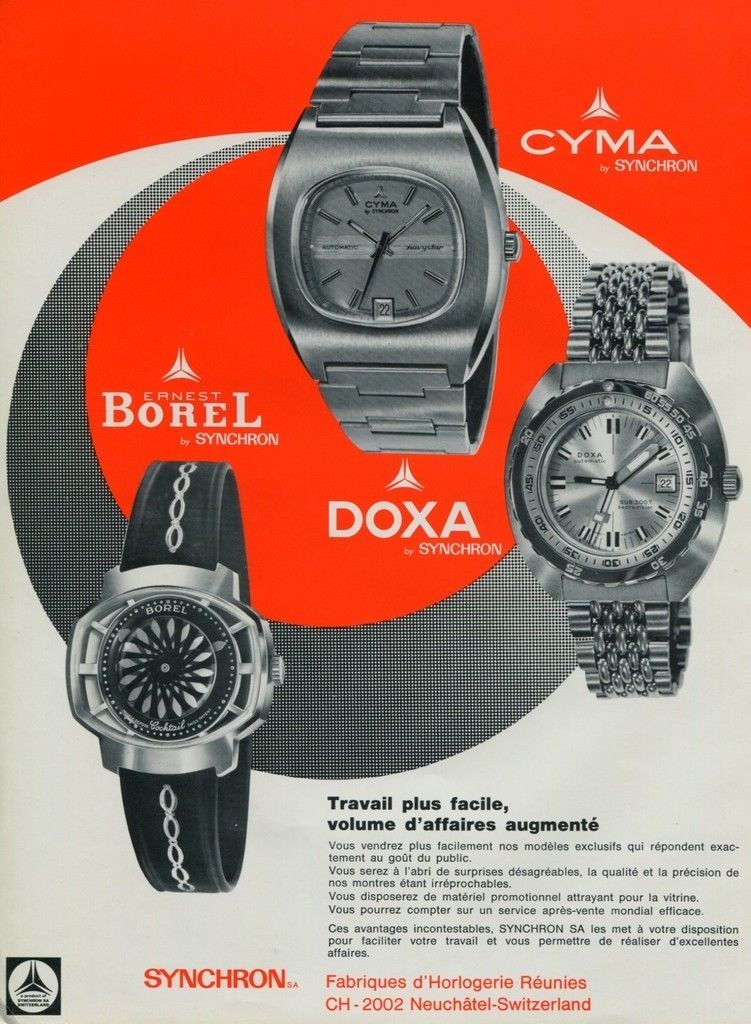 http://www.doxawatches.com/history.htm
Somewhat more accurate except leaving the part out about the Nazis
http://www.collectorsweekly.com/wristwatches/doxa
Landlocked Switzerland is probably not the first place you think of when it comes to scuba diving, but it is the historical home of fine, precision watches. In 1967, the Swiss watchmaker Doxa brought these two elements together when it created its distinctive, orange-dialed Doxa Sub wristwatch.
Doxa's history predates the Sub by almost a century. Founded in 1889 in the country's Jura Mountains, where watchmaking dates to the 15th century, Doxa patented the first watch with an 8-day movement in 1908. The movement was so reliable that Doxa was hired to produce wristwatches for German infantrymen in World War I. Many of these watches are in excellent condition today—the two snow-capped peaks and depiction of Edelweiss on the dial are not to be missed.
Perhaps because of founder Georges Ducommun's fondness for automobiles (he had one of the first in the region), Doxa was one of the first watchmakers to produce timepieces for cars. By 1921, Doxa was the official supplier to renowned sports-car manufacturer Bugatti.
One of the hallmarks of a Doxa watch is its fine internal workmanship, as well as its sense of style. For example, Doxa pocket watches from the 1920s feature handsome dials depicting golfers at play, while its women's wristwatches from that era are sometimes hidden within elegant, 14-karat gold bangles.
In the 1930s, Doxa was one of the leading makers of chronographs, some of which were housed in 14-karat yellow-gold cases. And the firm continued to make watches for the military throughout World War II, particularly for aviators.
After the war, Doxa produced handsome, round calendar wristwatches. In 1954, the company gave a gold watch to each player on West Germany's winning football team—the lads were in Berne, Switzerland for the World Cup. By 1956, the company's designers were at it again, this time creating the square, Bauhaus-inspired Graphic in both men's and ladies' models.
But the biggest event in Doxa's history was its foray into waterproof watches, which happened in 1967. The Doxa Sub 300T (300 is the number of meters it was rated for) featured a U.S. Navy air-dive table on its bezel to aid no-decompression divers while underwater. Even more helpful was the wristwatch's brilliant orange dial, which was designed for divers in dark, potentially life-or-death conditions.
Divers loved the Doxa, which was embraced by U.S., British, French, and Polish naval forces. And so successful was the orange-colored dial that Doxa added a few more models, including the silver-dialed Searambler and yellow Divingstar.
1946-2006

"Your heart was warm and happy

With the lilt of Irish laughter

Every day and in every way

Now forever and ever after."