Master of Time
Posts: 4598
Joined: October 13th 2010, 10:00pm
Location: Peace River, Alberta
Contact:
If you missed part 1 (the morning and afternoon of the day of this event I'm about to describe)
go here
.
Onward...
I owe very special thanks to Mr. Cheng of the Chinese watch site
Yiwatch
. Mr. Cheng was kind enough to make the arrangements for this heartwarming "greet the foreign visitor" VCM Dinner that very appropriately highlighted the achievements of the Shanghai Watch Factory in the 1950s and 1960s. I have no sufficient words to express my gratitude for his efforts.
I owe many thanks as well to all who attended as I was shown superb hospitality and friendship by everyone. I had a great time over nicely strong rice wine, very good Chinese beer
and lots of excellent food, most of which I'd never tasted before
, and reports on Yiwatch suggest the fun and friendship was shared
I am honoured to introduce the guests that assembled at the event:
Back row from right to left:
Mr Cheng, the webmaster of China's yiwatch.net and camgle.com (a watch and camera site, well known in China);
Mr Zhu, webmaster of the Chinese watch forum at www.watchstore.cn which has a popular forum area.;
Mr Shao, also webmaster of the Chinese watch forum: yiwatch.net, and the very experienced VCM collectors:
Mr Liang,
Mr Xia,
Mr Sun.
Front row from right to left:
Mr Jiang Qing, Designer of the Shanghai Watch Factory SS1A movement (1966);
Mr Tong QinFen, former Production Team member for the A581 movement (1955) as well as the former vice chief engineer of Xian HongQi Watch Factory and the former Senior Engineer at Shanghai Watch Factory;
me; and
Mr. Joel Chan of the Micmicmor Vintage Watch website.
And here are some other "special guests" at the table, most I never thought I'd ever see in person, let alone touch....
...a very rare 24 jewel non-diver military issue Shanghai...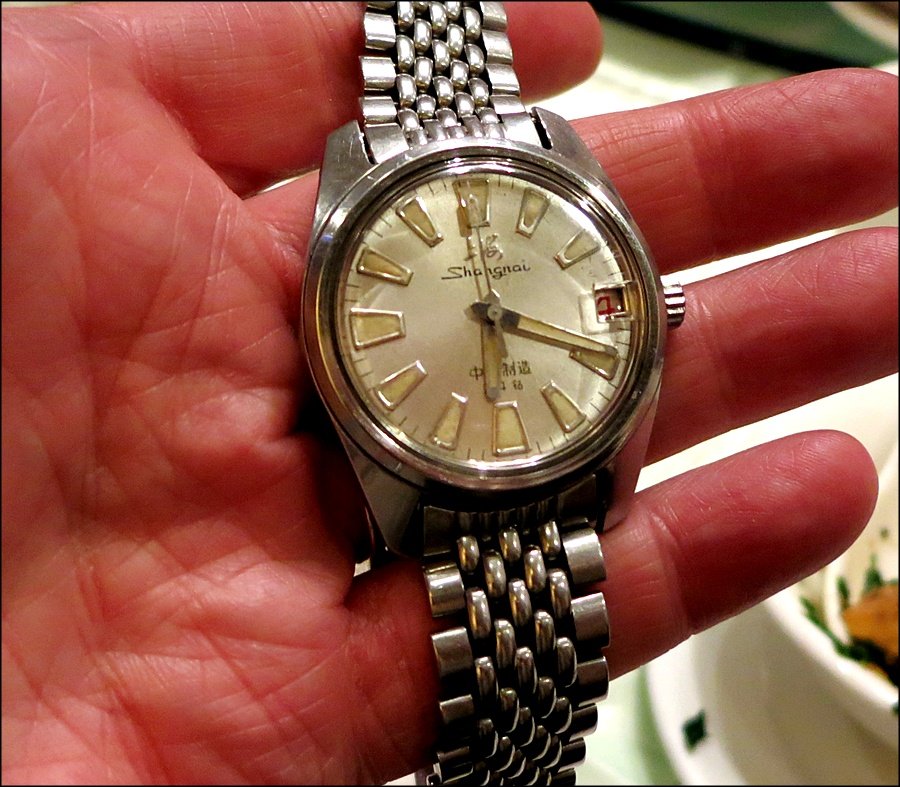 ...a very rare 17 jewel Shanghai watch, marked for military use...
...a rare 24 jewel miltary diver...
...followed by an even rarer 29 jewel version...
...and a very rare ZuanShi SMI with date complication...
...an original and rare "panda" 581....
...a stunningly rare 1950s Dong Fang Hong "East is Red"...
...followed by an equally stunning and rare 1950s He Ping "Peace"...
...an uncommon "sitting" XiongMao...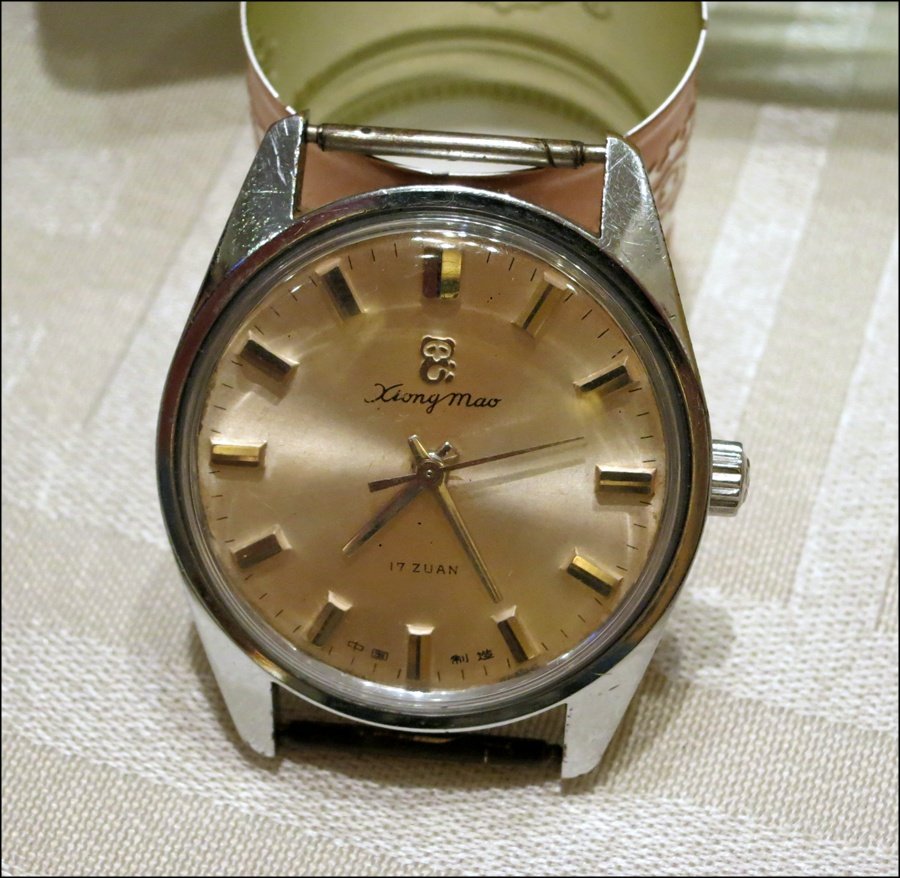 ...an original 1960s Chinese Air Force chronograph (note the sub-dial hands with
no
"tail", just to muddy the details of the controversy about which side "properly" has the tail
...
...and rarest of all:a Shanghai 24 jewel
automati
c with date. I very graciously received special permission from the owner to show this watch as Joel noted that it really hasn't yet been seen in this detail even on a Chinese website.
I also want to note that the AMCHPR was gifted at the Dinner with 10 quite hard to find vintage Chinese mechanical watches (no, none of those), plus a set of beautiful Zhongshan dials as well as some scholarly research papers that will need to be translated before I can post them at the AMCHPR...but I'm a shameless tease, so that's for a future installment
...and here's the translation of the Yiwatch report of the event:
yiwatch.net/thread-105761-1-1.html - Translator
Last edited by
AlbertaTime
on October 21st 2016, 9:22am, edited 1 time in total.