conjurer

(Online)

Owner
Posts: 34383
Joined: July 13th 2010, 10:00pm
Contact:
Unfortunately, I wasn't able to make it to Basel this year (or any other year, for that matter), but luckily I got a call from Eyal, who is, of course, phenominally busy at the Hall of Dreams, shooting rubber bands across the aisle into the Nixon booth and bailing MD out from the local hoosegow. He was not so busy, however, that he couldn't dial me on his vintage and very cool Motorola 1987 cellular telephone.
Now, one thing we all know about Eyal is that he loves to pay homage to other great watch companies--not as great as Invicta, of course, but all right great--by ripping off--err, well, I suppose there's no other words for it--ripping off their designs and so forth. Not content to rest on his laurels, Eyal decided that he wanted to branch out and copy their marketing as well. I'm sure that we've all seen this advertisement: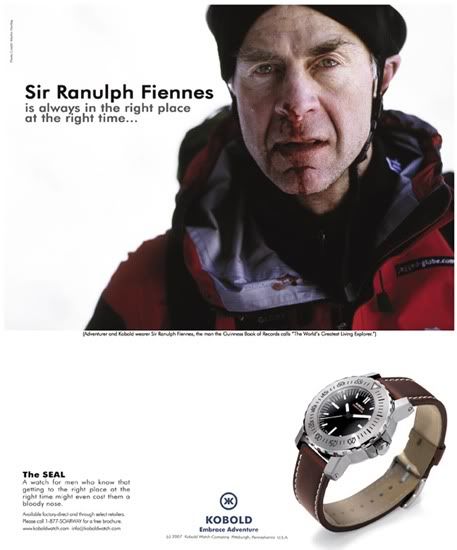 This from Kobold watches. Mike Kobold, very few know, is actually a very close and dear friend of Eyal; they used to go skiing together in Gstaad, they hung out on the street corners together growing up, and even fewer know that Mike Kobold was actually the first watchmaker to make the under-sized polo shirt his signature style--this long before Eyal had the beefcake build to carry it off.
Anyway, Kobold has been using the creakingly elderly UK explorer Ranulph Fiennes for their product ambassador. This geriatric Rambo has climbed every mountain worth climbing, walked to the North Pole, and gotten jaked in every waterfront dive in Southeast Asia (one of which was where he got the bloody nose in the above advert.) Kobold just recently announced that he was going to have a couple of sherpas learn how to make his watches in some sort of weird diversity program. Apparently, carrying privileged egotisical Westerners on their backs up Mt. Everest wasn't paying whatever bills sherpas have, so Kobold to the rescue!
This is where Eyal comes in. He decided, first, to hire a new brand ambassador for Invicta the way Kobold did. Next, Eyal wanted to teach the fine art of watch-contracting-in-the-Far-East--err,
watchmaking
to some indigenous people so he could feel better about himself.
The New Invicta Brand Ambassador
First things first. Eyal needed an ambassador. Like so many things, Eyal copied success; he wanted somebody, like Kobold, very old. He wanted someone who was relatively recognizable, and he wanted him cheap. And so he got....
A tip of the hat to the new Invicta ambassador, Larry Storch!
Larry Storch, for those younger members, was the actor who played Corporal Agarn on the 1960's TV series
F Troop.
: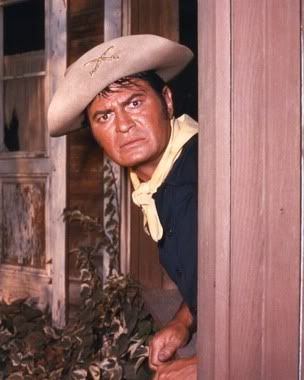 Larry in happier days, looking for Forest Tucker
Larry was the perfect fit for Invicta since A) he's very old B) old timers know and love him and C) he will work for literally peanuts. Here are some more shots of Larry at the Invicta party at Basel:
"Where's the goddamn open bar that Eyal promised me?"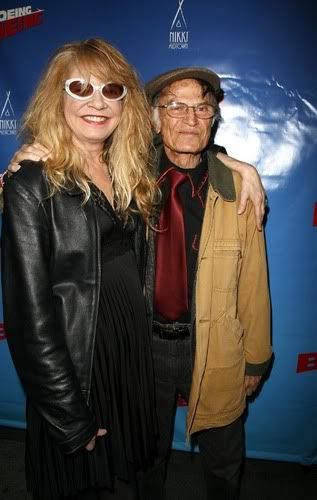 Larry with Eyal's great aunt Claudia, sister to Grandmama Lenya
Larry with Eyal's uncle Sid, charged with the very important job of emptying the ashtrays.
A big hand, I think, for Eyal, for employing the elderly!
Eyal's New Invicta Watchmaking Program
As we all are aware, IWG has suffered a few minor public relations setbacks over the last couple of years. Eyal wanted to give back to the world instead of just taking--as well as eating pates of endangered species on small Swiss rolls. About a year ago I broke a story on one of Invicta's more horrifying practices--Blood Sandstone. The story can be found here:
http://bdwf.net/forum/showthread.php?t=75202
Naturally, IWG and Eyal took a pretty big hit because of this. So, he decided to employ those few Andean woman who weren't ground up mining his sandstone dials to make Invicta watches!:
Andean women wearing their iconic stupid bowler hats. Every one of them a born watchmaker!
Of course, in the Andes there are dang few horological ateliers. So Eyal decided to send a group of specially selected Andean women--stupid bowlers and all--to China, where his sweatshops--err,
watchmaking studios
are located. There, they will labor industriously for up to eighteen hours a day--those Andean women sure are hard workers!--to install painted-over Officina del Tempo rotors onto Eyal's black-market Miyota automatics. The Chinese government has stepped up as well, offering the services of the People's Army to instill a correct sense of work ethic in the non-terrified women, i.e., poking them in the back with bayonets. One of the ladies has already risen to the pinnacle of IWG, the Reserve Line: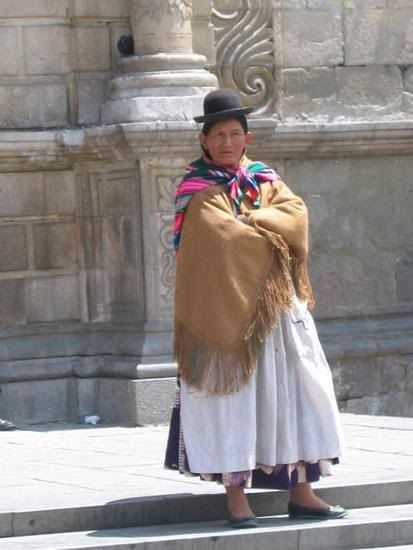 Shessily Gomez, watchmaker extraordinary.
Hopefully, the pittances these wonderful ladies send back will allow their relatives to bribe the local constabulary to prevent their young sons and daughters from becoming disappeared!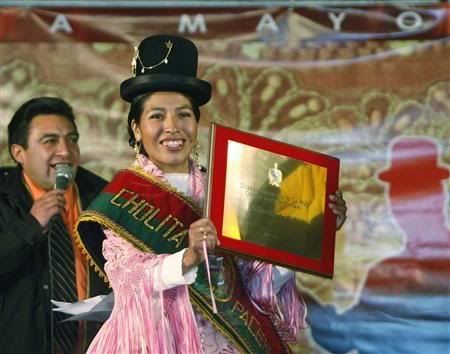 Not all the Andean women are crones. This one is being sent to Hollywood, Florida!
Another big hand is due to Eyal, I think, for really stepping up in the face of a hostile economy.