ASSHAT
Posts: 10059
Joined: September 17th 2011, 10:00pm
Contact: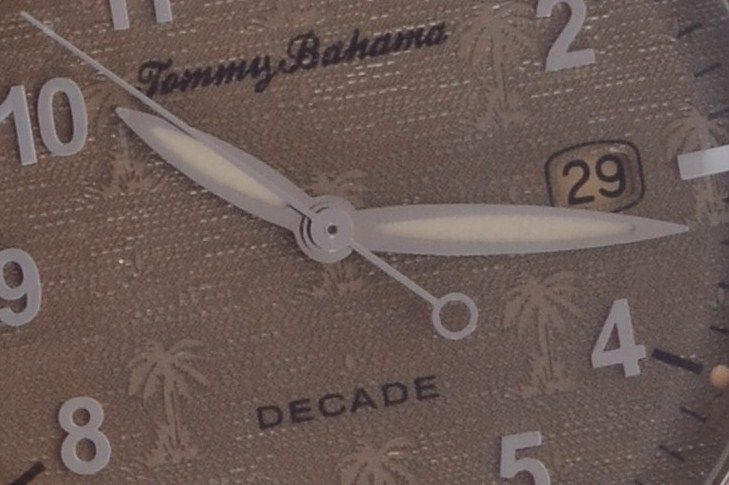 11:30 pm.  Nha Trang.  Crazy Kim Bar is winding down so it's time to run the Biet Thu / Tran Phu gauntlet of hustlers, hookers and pimps if I'm going to get a beach lounge at the Sailing Club.  After 10, 20... maybe 30 beers, my better judgement has flown out the window and an unmistakable randiness has set in. 

Ethan, a Wisconsin native touring South East Asia researching his thesis on 1960s and 1970s CIA involvement in illicit drugs, fellow beach bum, and my travelling companion du jour, had already hit the sack.  Somehow, through an alcoholic fog and above the Kanye West blaring over the bar, I recalled Ethan's advice:  "just because they're very young doesn't mean they won't give you gonorrhea."

Stumbling out the door and into the warm, fecund night, Ethan's advice and 'Gold Digger' were still ringing in my ears.  Sure enough, within 100 m of the bar a throng of excitable, sweaty, grabby night walkers had invaded my personal space.  Hands...  hands all over the place, hands wherever my wallet might be.

I should have known better.  Only the most tired and worn out whores worked the - literal - tourist trap this time of night.  A hand job would have been dodgy.  Anything more was asking for trouble.  But it had been many hours since my morning massage ended happily - something had to give, and give fast, goddammit. 

That's when I remembered I was wearing my Tommy Bahama Decade.  Not only did my timepiece announce my swinging cabana party lifestyle to the world - in case the world missed my Hawaiian shirt, knee length denim cut-offs, and fake Crocs - but the included heritage style pleatherette and faux-hessian watch case is perfectly sized for a box of extra large Trojans and a tube of K.Y.  Aloha, ladies!!!
So reads the entry for the Decade wrist watch in the legendary Tommy Bahama catalogue. The question is... Can the watch equal the expectations thrust upon it?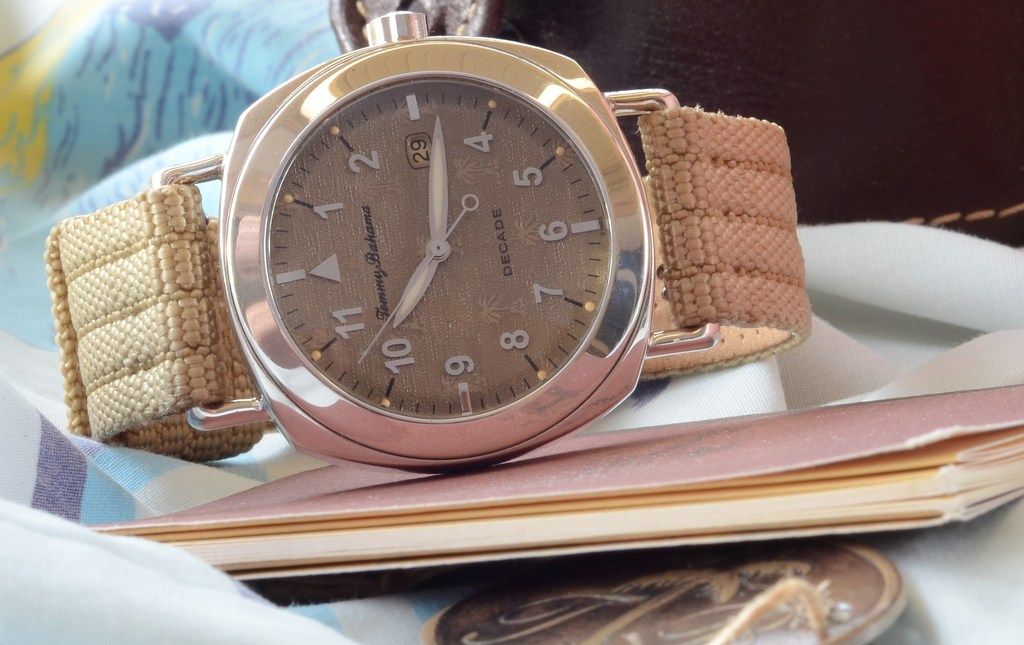 For the short of attention span TLDR set, to save you having to skip to the end...Can it equal those weighty expectations? Can it ever! This is one of those landmark luxury items that gives a little more with every exposure. A genuinely special item that
makes the man
. For those of you with the time and inclination, let me explain...
First, a little background on Tommy Bahama. So iconic is the brand, so broad it's reach, so universal its appeal, so timeless it's style, it's all too easy to forget Tommy Bahama has only been with us since 1991. I know, I couldn't believe it either. Tommy Bahama is like that chap with whom you were sinking happy hour pints at the Kuta Hard Rock Hotel pool bar – the reality is you just met, but it feels like you've been buddies for life.
And you just might be wearing your Tommy Bahama watch, or shirt, or shorts, or hat, or aftershave at Kuta, while swigging a Tommy Bahama brand rum based cocktail from a coconut. The concept behind Tommy Bahama, you see, is a lifestyle of never leaving the beach. And even if you have to leave the beach from time to time... in your mind, in your soul, in your sense of style, you're still at the beach. It stands to reason, then, that the Tommy Bahama Decade should be the ultimate beach watch. But is it?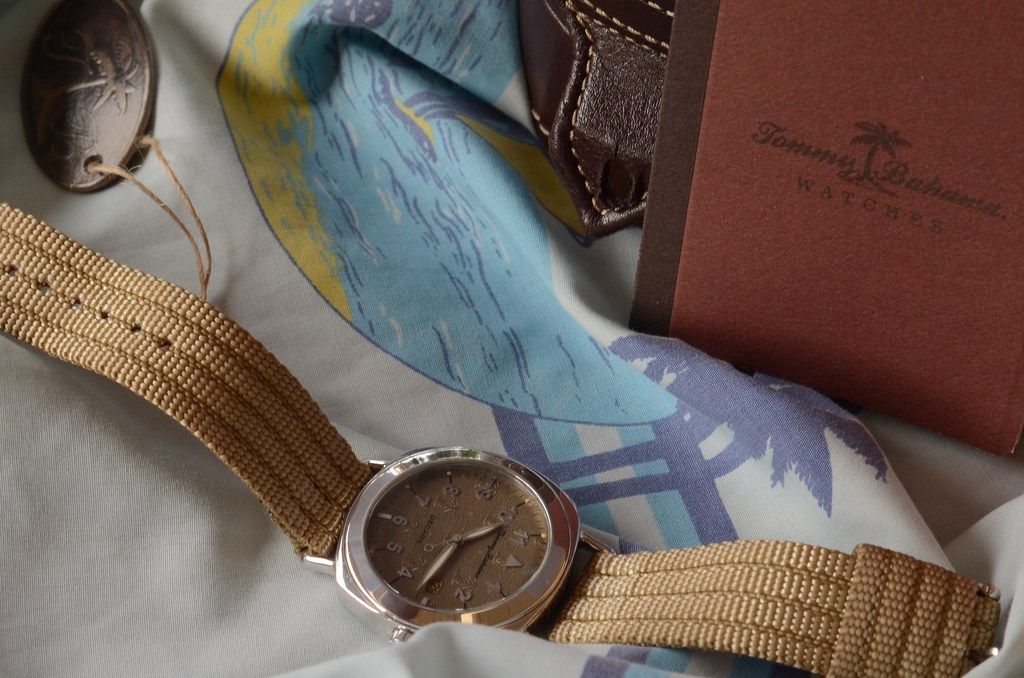 When we think of the beach we think of silver. Sure enough, the Decade is constructed from solid 925 sterling silver. We think of palm trees. Sure enough, the dial is subtly emblazoned with a palm tree motif in relief against a linen-esque background. As is the screw down crown. We think of nylon flotsam, such as the rigging from exotic racing yachts, washed up on shore during the last storm. Sure enough, the Decade is held to the wrist of a beach bum party guy by a rather lovely nylon strap. The Decade truly is, then, the ultimate beach watch.
More than being the ultimate beach watch, however, Tommy Bahama have delivered the ultimate package for the laid back beach loving cruise wear lifestyle. In addition to the aforementioned watch case, the Decade is delivered with loads of classy, evocative swag. The manual could be mistaken, in a drunken stupor, for a well worn passport. The outer cardboard box is cleverly printed to look like a different kind of cardboard box. The hang tag hangs off a piece of string. Details, details, details – Tommy Bahama delivers. Thrice.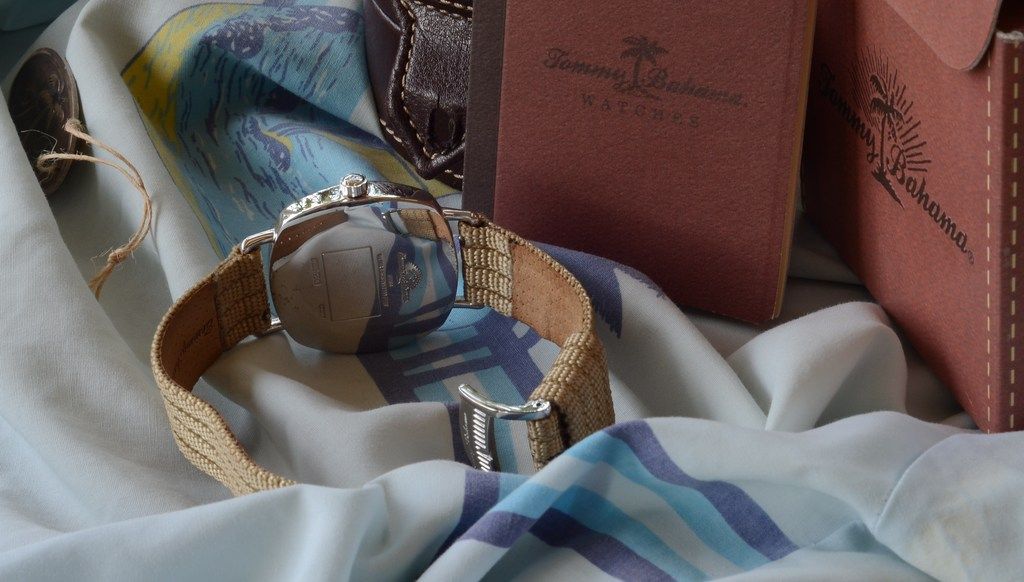 Every era has a definitive product. A product that, in many ways, is a sign of the times. In the 90s, it was the iPod. In the noughties, it was something else. And in the twenty-teens, the definitive product which will define this decade for future generations is, deservedly, the Tommy Bahama Decade.
Copyright Reclinervision 2020 Productions. All rights reserved.
If it thinks, it stinks