tiktok
I rarely go apeshit over a watch anymore, at least one that I can afford to adorn my wrist and that suits my informal active lifestyle. As you may already know I had a mishap with my Glycine Combat Sub that left me miffed and I was looking for something to wear on a regular basis that could take a beating without flinching and that had some eclectic style cues to satisfy my memory of being cool once upon a time.
The SAR was developed for German nautical search and rescue teams to withstand extreme weather and atmospheric conditions. It's an odd watch when you consider 1000m water resistance with no timing bezel and all of the shapes are very interestingly curved to create a fluid piece. The fact that they are packing this kind of water resistance into a 42mm case that is 13.5mm thick is quite remarkable. Sorry for the crappy phone shots but my camera is at my studio.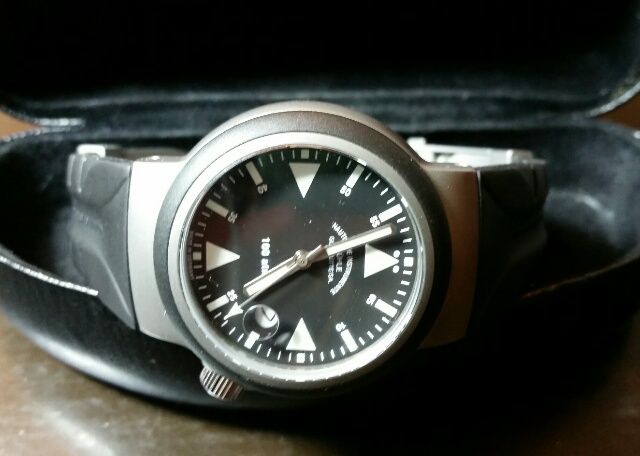 The first thing that jumps out at me is the legibility of the dial. It features a 4mm sapphire crystal that is flat so you don't get that oversized feel, and there's a giant cyclops which I can actually read but I still don't care about the date. The entire watch and deployant are brushed except for a highly polished crown at 4 pm. I kind of like the one detail of contrast. This one came on an a thick rubber bracelet that I am finding comfortable as hell. Also, the bezel is made of hard rubber for shock absorption and the movement features a woodpecker regulator modification to the ETA that also increases shock absorption.The deployant is huge almost covering the whole back of the bracelet on my 7" wrist. As funky as the watch is the large amount of metal on case and deployant does give it a jewelry-like feel and the weight is well distributed, not at all top heavy.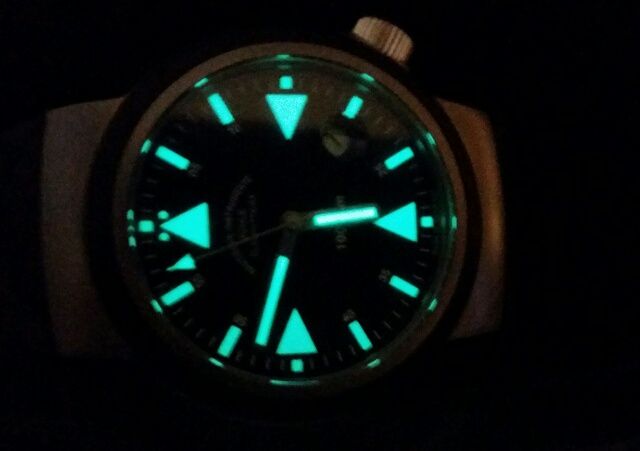 The only beef I have is that the lugs are screwed in and so my penchant for frequent strap changes is probably going to have to take a chill. This is the best lumed watch I have every owned, well i do have a Pyrolume but it is nowhere as nicely applied as this. It glows nuclear, better than Seiko, with just the quickest shot from my flashlight and is long lasting. I have used an Oris BC3 for travel and sports activity for years but I was ready for a new watch for this niche and I love it. Here's an overtooled watch built in one of the great watch capitals of the world that feels more solid than both Sinn and Damasko although there is nowhere near the options these other great brands offer.
Last edited by
tiktok
on February 7th 2016, 4:25pm, edited 1 time in total.