Master of Time
Posts: 2656
Joined: January 7th 2013, 11:00pm
Facebook ID: 0
Location: Just north of Northern Krautland
Contact:
So just a while ago someone offered a bundle of two Enicar on a German "classified" site operated by ebay. I was interested in one of them, and contacted him. He said he already had someone interested only in the other one - which was a "Sherpa" model, so more prestigious. I would have taken both, but that did also suit me, and I finally managed to secure this beauty, along with some original Enicar straps from the 70ies, at a very reasonable price: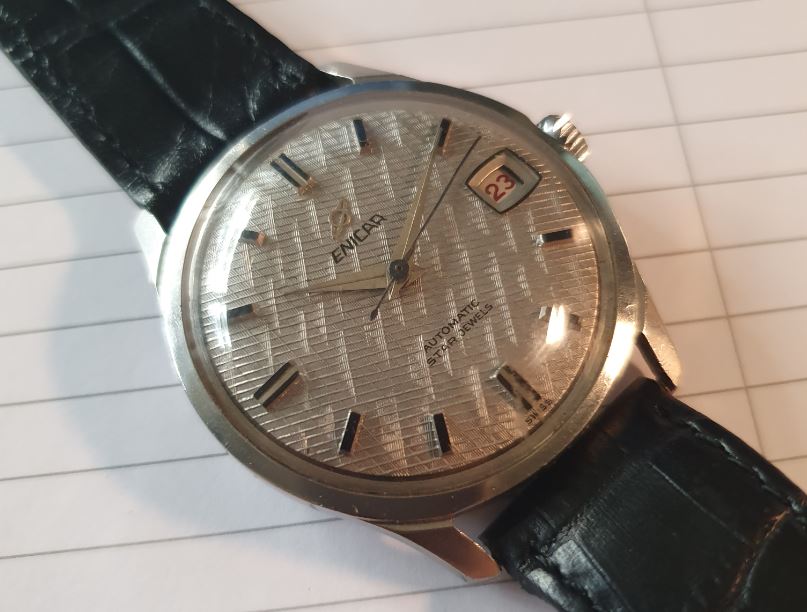 The "tapestry" dial is awesome at close range.
He sold it has "handwound", but from the reference number as well as the movement it was clear that it is missing the automatic bridge and rotor, and settled the question why the dial says "automatic". And I happen to have spares here, so I will get that fixed easily. Alone selling the spare straps with the original Enicar buckles and print will re-imburse me with probably half of what I paid in total (despite these are 60ies quality, both leather and "tin buckles", not what one is used to these days.)
But the buckle mounted on the watch shown in the picture above is of a different kind, more solid: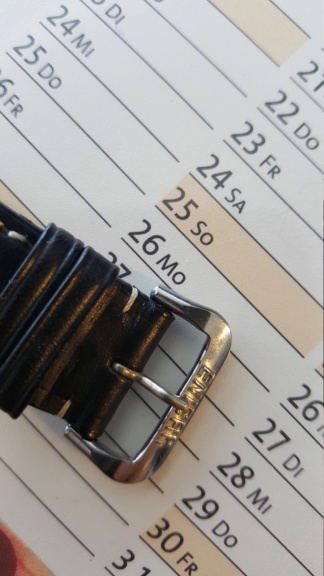 These buckles do by now go for 30-40 a piece, if You are lucky to find one. Unfortunately some of those on the market have "unconventional size", so it is not straight forward to find a strap that fits. I have them mounted on a number of my Enicar, bought them early when the hype was not so bad yet.
Ardnut since 1989

In twenty years or so, the German language will be one, massively long compound word.
-- conjurer