Master of Time
Posts: 2431
Joined: June 8th 2011, 10:00pm
Facebook ID: 0
Location: Sun Diego, California
Contact:
I'm no wristwatch historian, just an admirer of cool timepieces and appreciate mid century design. Company and model backgrounds are from what I have read and learned through the years, mostly from the internet and fellow collectors. If anyone has corrections or additions, please post! All watch photos are from my personal collection.
Right-Click photos for an expando-view.
_____________________
The Toyota Scions of the Watch World
This post presents a few budget brand releases from big makers that were created to address more cost conscious customers, whether they be income limited, youths, or simply didn't value top quality timepieces nor cared to pay their prices. Why not capture this audience along with their established flagship customer base? Bulova created Caravelle, Hamilton developed Vantage, and Longines eventually repositioned Wittnauer. Unlike Longines and Bulova, Hamilton went to great length to separate their connection to Vantage by creating a complete and separate identity that filtered down to distributor outlets. "Hamilton" and "Vantage" were never seen branded together on the same watch...ever.
Japanese movements, lesser jeweled imported automatics, base metal cases and such required less manufacturing investment and allowed the release of more adventurous, daring and whimsical designs. One might consider them among the first "fashion watches". Today, a collector like yours truly who appreciates fun and funkier designs, looks to these brands for a little eye candy. Due to their uniqueness, they can fetch big bucks on the collectors market despite modest original selling prices.
Below are a few samples of these brands from my collection except where noted.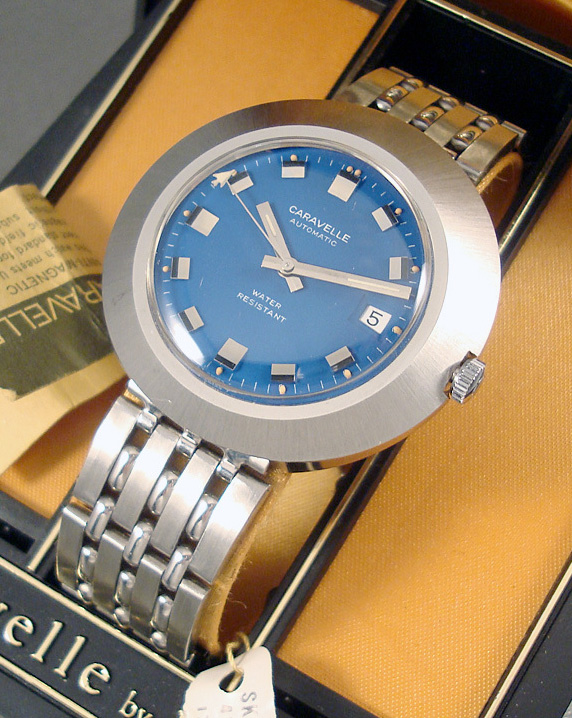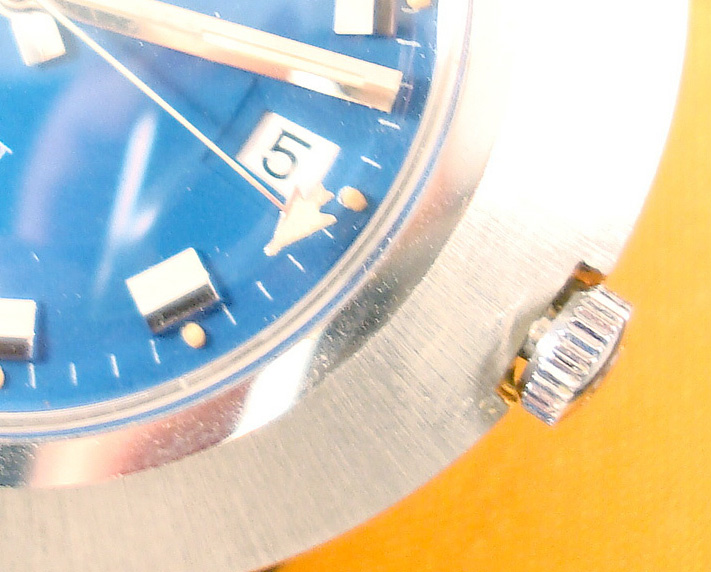 You gotta love it! A retro cool asymmetric case, "Disneyland Tomorrowland blue" dial, a seconds hand with a jet airplane-tip that navigates around the dial as the hand sweeps, and a 17 jewel Swiss Made automatic. Doesn't get better than this NOS "Skipper" model. The original price tags displays it was to sell for $24.95.
_____________________
A top quality offering with a wild case and asymmetric lug design. It was probably too unconventional for flagship Longines, but acceptable to release as a Wittnauer.
_____________________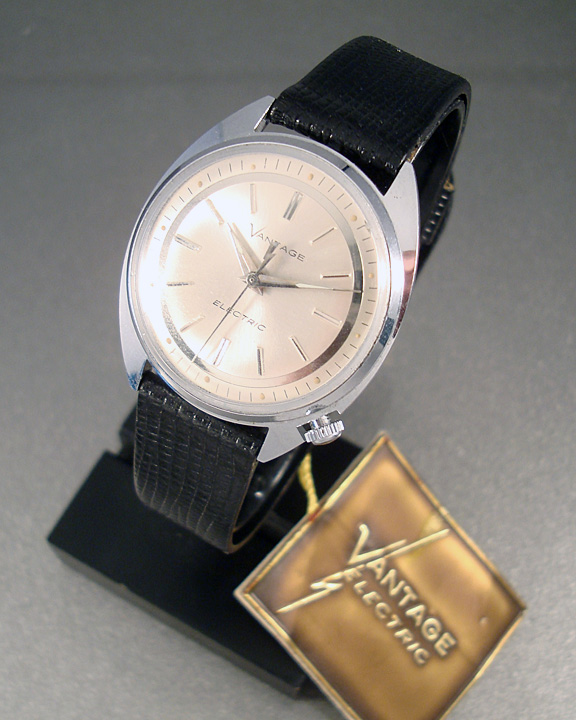 Here is a late 1960s Vantage Electric by Hamilton. It houses a variation of their caliber 505 Electric movement made in Japan. With a base metal case top and synthetic material strap, its lesser quality when compared to a typical Hammie house brand Electric becomes obvious.
_____________________
The Wittnauer Sector double retrograde. Can you imagine the Longines brand offering such a watch? I didn't think so. That's why it was handed off to Wittnauer. When I was aggressively collecting about 10 years ago, a nice Sector was fetching around $350.00 to $400.00. Today the same watch can be seen for sale above $2,000.00. Sector image is courtesy of the web.
Last edited by
Anonymous
on August 14th 2011, 2:28pm, edited 4 times in total.