Master of Time
Posts: 2431
Joined: June 8th 2011, 10:00pm
Facebook ID: 0
Location: Sun Diego, California
Contact:
I'm no wristwatch historian, just an admirer of cool timepieces and appreciate mid century design. Company and model backgrounds are from what I have read and learned through the years, mostly from the internet and fellow collectors. If anyone has corrections or additions, please post! All watch photos are from my personal collection.
Right-Click photos for an expando-view.
_____________________
Oddball Bulovas
This session presents five examples from my oddball Bulova collection. They originate from between the late 1950s and 1963, offer medium to high-grade mechanical movements and have cases that are either rolled gold or gold filled. The only exception is the criss-cross lug model (far left model) which is solid 14K. The most collectible of the four is probably the triangular case model (second position), but I have a personal soft spot for the basket weave case top and atomic spoke dial model (third from left).
Looking back, it would seem there was a competition between Hamilton, Bulova and Elgin as to who could pen the funkiest case design.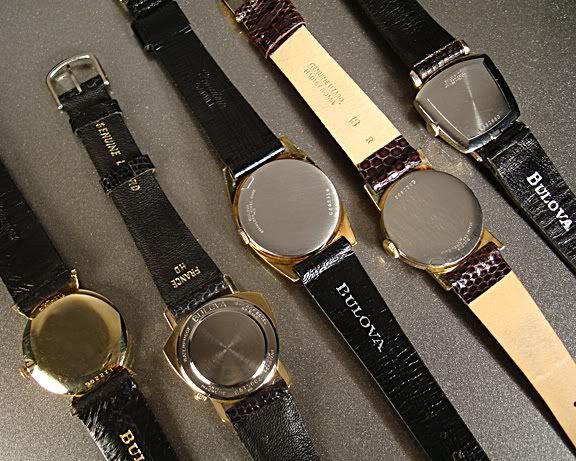 ___________________________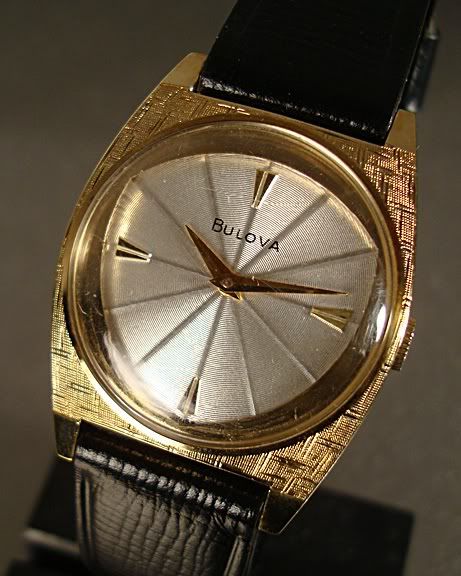 Above is one of my all-time favorites. Below is a photo of the movement from the same model, courtesy of the web.
Last edited by
Anonymous
on March 11th 2012, 6:26am, edited 3 times in total.