Master of Time
Posts: 626
Joined: February 10th 2015, 7:53am
Facebook ID: 0
Contact:
A prime goal of my recent restructuring of both my collection and my horological interests going forward is to have a foundational daily rotation. Three pieces each of which could be a daily wearer in my life and circumstances for the next 5 years at a minimum.
Among other things, cases are getting smaller at a rapid pace these days, so staying consistent with that is a strict requirement.
First one I decided on was Grand Seiko SBGA283, and this picture closed the deal for me:
From the GS catalog:
A Simple and Compact Spring Drive, at is most elegant

This simply finished model with no crown guard is driven by a Grand Seiko's unique Spring Drive caliber, which combines the motive force of a mainspring with the high precision of a quartz watch.

With a case size under 40mm, the watch adorns the wrist with an elegant subtlety.

The dial makes use of Grand Seiko technology to effect a deep silver finish, giving off a radial sheen that projects a lustrous sense of depth.
The slender shape of the raised indices complements the sharpness of the power reserve indicator, while the clear expanse of the dial combines with the smooth movements of Grand Seiko's original second hand.
Turns out, the SBGA083/283 dial has the most steps (12) to produce of any GS dial and is reportedly a masterwork of cream dial subtlety. I have yet to see as I haven't received the piece yet.
My intention is to wear it on a strap that is currently on order. Incidentally, the piece is 39mm.
Next up, I wanted something silvery/gray, mechanical and old logo Grand Seiko. Generally, the prime goal was an old logo Grand Seiko piece for both sentimental and future collectibility and insider cool factor.
Incidentally, my thought is that if picking old logo GS for old logo-ness purposes, the mechanical pieces are the best bet. Spring Drive is still very new technology and hence advancing rapidly. Over the next 10 years, Seiko is going to run up the score on accuracy and power reserve, who knows what else, on Spring Drive. They already did an 8 day power reserve model just to tip their hand. Quartz models are just going to keep quartzing.
Imagine what developmental Spring Drive stuff Seiko has rolling around their internal workshops.
So old logo Spring Drive is going to seem a bit rudimentary compared to Spring Drive of 5-10 years from now, IMO. Still nice stuff with a lot of cachet, but old logo mechanical pieces will have broader appeal.
My first thought was SBGR051 at 37mm: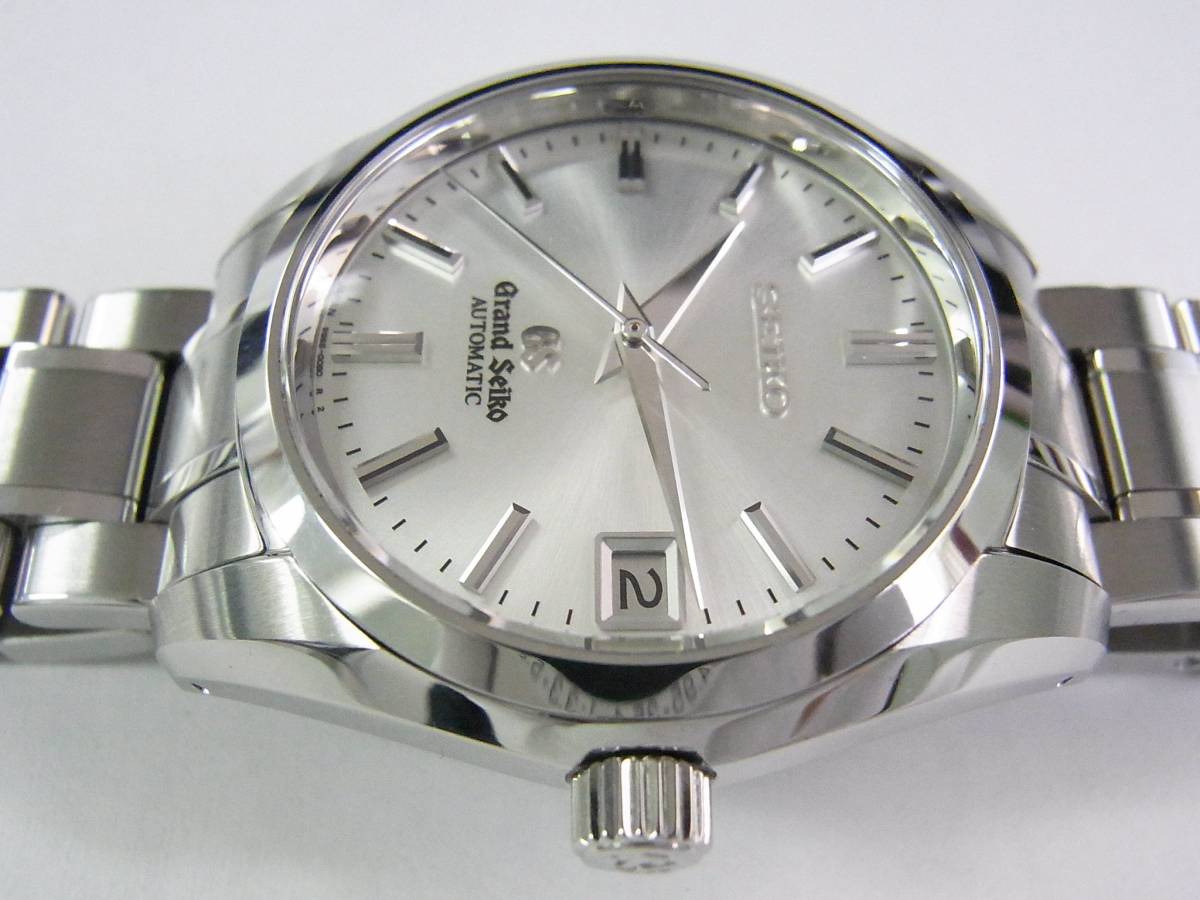 The SBGR051 is an upgrade of the SBGR001. Personally, I prefer the crown on the SBGR001, more classically proportioned, but there are some movement upgrades in SBGR051 that seemed to override the crown issue. But here is the SBGR001:
But then the SBGH001 came to my attention.
The 9s85 movement is a giant killer in any company and the styling is pure classic GS. The dial shifts between silver, gray, milky white, plain white, and, under low lighting, of all things, a chardonnay appropriate for low lighting.
But most of the time it is gray, remorselessly so, like subarctic sea, sky, and coast.
At 40mm, it is pushing the boundary for case size. But among old logo GS, at least recent ones, it is rather petite. When it was introduced in 2009, a common, actually, quite consistent criticism was that it was rather small.
Hence, in the small case era, it is going to be a wearable classic, eventually vintage, where a lot of those 41/42mm dress watches are going to seem rather klunky.
Good time to be getting out of Snowflakes, IMO, if one has any intentions along those lines. Trade it in on a SBGH001, which is the recent old logo GS to have if you have to have only one.
Nice thing about old logo, if someone asks about your watch, if you don't feel like blathering on about watches, you can always say, "Its just a Seiko" and move on. Or do the opposite and extol the virtues of this otherwise rather average looking dad watch.
It is a killer piece, jumped out of the box and attached itself to my wrist like one of those face planting things in
Aliens
. I will add that I have never liked blued hands but the blued second hand does work for me very well on this piece, first time I can say that about a watch.
This left one more slot and I wanted a black dial. First I thought, ok, SBGR053, again, 37mm like its silver sibling SBGR051:
But honestly, at this point things are getting heavily old logo GS and GS in general. And 37mm black dial, with the case shape it has, etc, why not just get a Rollie Explorer?
So I thought, ok, how about a SARB033? Definitely a nice black dialed sub 40mm watch and it isn't like there is any shortage of them.
So I bought one from some dude in Hong Kong who apparently has a warehouse full of them factory fresh. It is still sitting in unopened plastic outer bag. I'm probably going to sell it to one of you guys for what I paid for it.
Went through other ideas, not only black dials. I"ve long had an affection for Tag Heuer in general, that's my Swiss brand, goes way back with me, and for the Carrera Calibre 6 COSC in particular (WV5111.FC6350):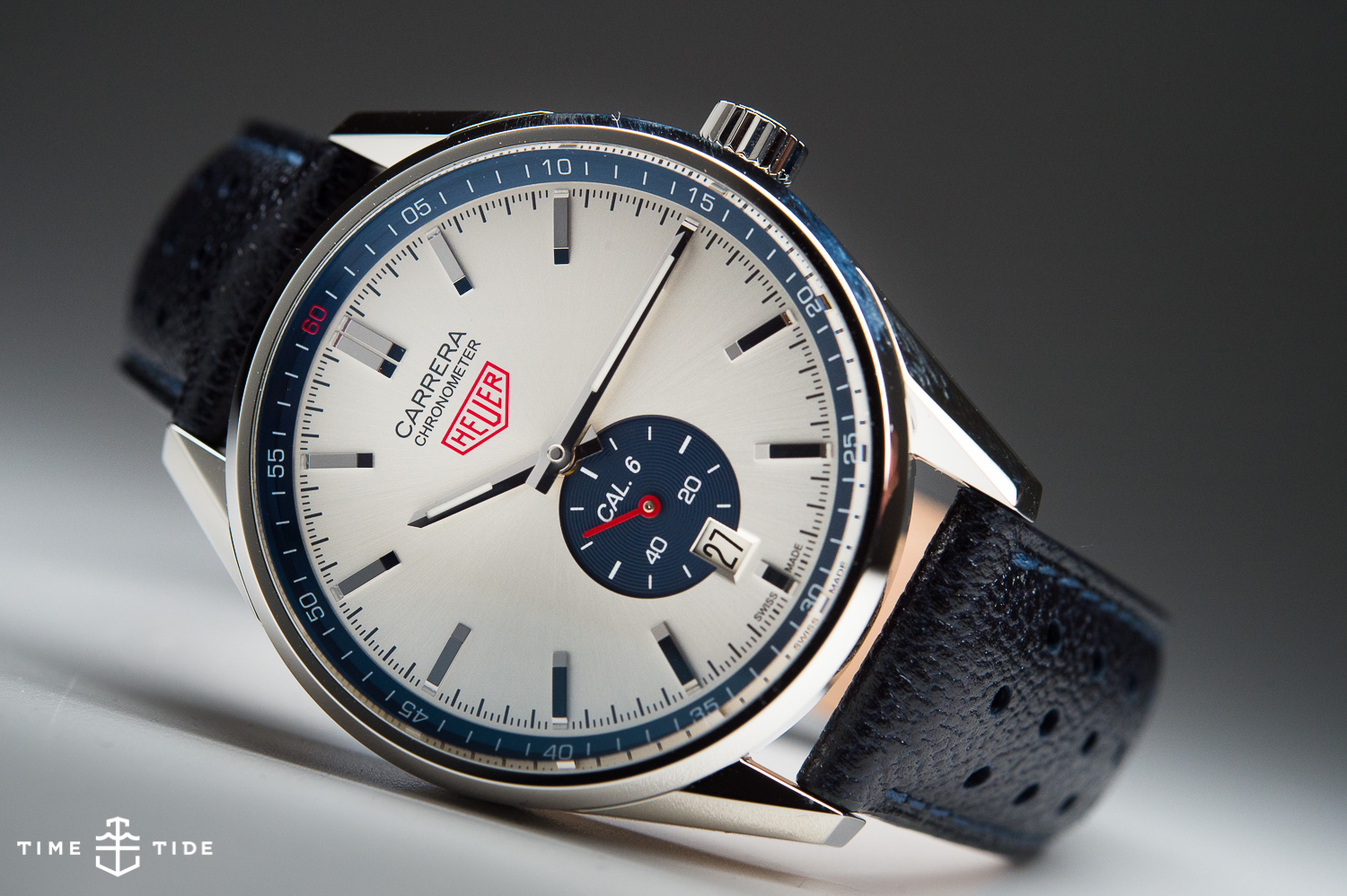 But it was OT, a silver dial and my strict rotation needs a black dial to go with silver/gray and cream. One day, I will find an excuse to buy one of those Tags, loved them since the first time I saw one in the Tag Heuer boutique in Shinsaibashi.
I also love me some reissue Movado 800 Datron at 39mm, especially with those polished center links:
But a chrono is an oddity and I'd like the rotation to all have the same/similar complications. And I don't need a chrono in my day to day life, so it is a bit of an affectation. Fine for an occasional wearer, but not a daily wearer.
Again, what do I need a chrono for.
So I'm going back and forth, and then I remember good old Royal Orient, Royal Orient Star, Orient Star Royal, they changed the name around over the years. Orient also seemed to have dropped the line sometime the past few years.
But their last few years, they were doing some super salaryman watches a la GS and small cased. So I looked at a few.
First is WZ0021FC, 36mm
Love the caseback:
Real classic:
But at the end of the day, just a little meh for me. I handled them when they were available, and the difference between an Orient Star and an Orient Star Royal didn't seem all that much.
There is a cool carbon fiber dialed limited edition on, WZ0041FC that I thought was a lot of fun, you see these bouncing around, same case/movement as WX0021FC
But honestly, just not enough Royal, too much Orient Star. And I think Orient made a distinction between Orient Star Royal, which was a model line inside Orient Star and Royal Orient.
For one, Orient Star Royal use Orient Star logo, recent Royal Orients did not. And, the recent Royal Orients I handled had a noticeably higher degree of finish and niceness than the Orient Star Royals.
One black dialed model one still sees around is WE0011EK. The WE* Royal Orients went for lots more than WZ* ones. WZ* is a very common plain old Orient Star reference, maybe showing the commonality there.
But the logo and numbers, just too much for me, I'm wanting minimalism. Overall, the piece is a bit too baroque for me.
Enter the WE0031EK: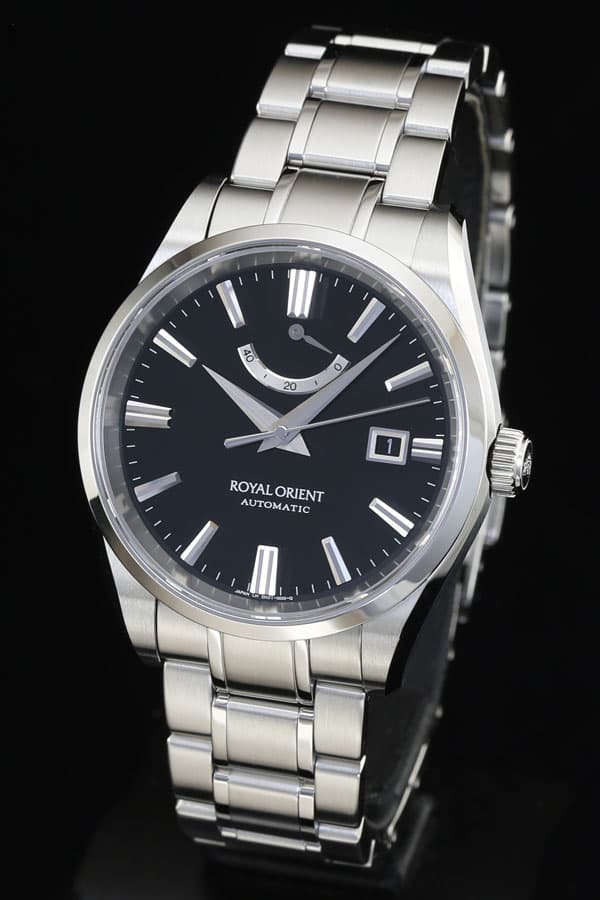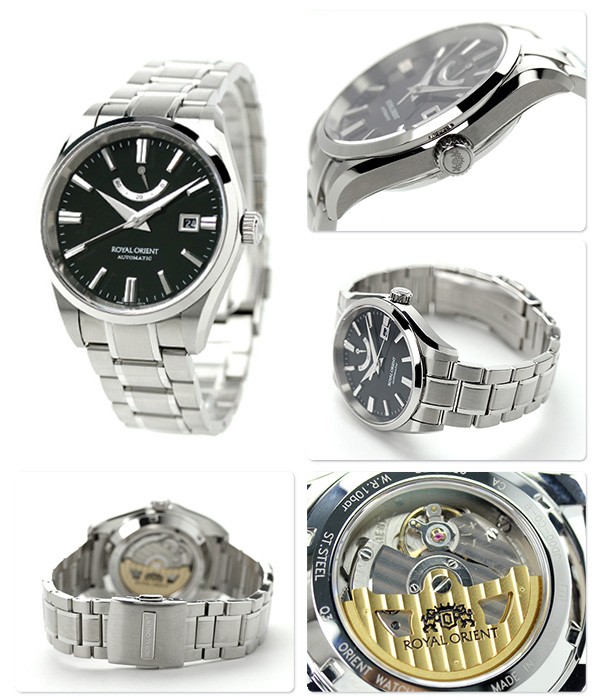 A very modern, minimalist look, starting with getting rid of the crown logo on dial, crown, and clasp. And nowhere on Royal Orients do they use Orient Star logo like they do on Orient Star Royals
Some translated Japanese on Royal Orient (as opposed to Orient Star Royal).
ROYAL ORIENT is the highest-ranking brand that Orient watch boasts, with the theme of "Watch that felt human warmth" and "Watch that you can use forever". Elegant design, excellent quality are carefully produced one by one by skilled hand craftsmen.

The case which gives a powerful and elegant impression is a royal easy to apply the zaratsu polishing (a polishing method that requires skilled skill to polish the case by applying it at a certain angle to the polishing rotating disk) that was repeatedly studied with the designer It is designed exclusively for Orient. I finished it as a model that is suitable for the highest peak of Orient, which makes it possible to feel the seriousness and polite manufacturing of Japanese craftsmen in every part. The end piece is a tightly polished two-body structure. A metal band made with care using the back side and invisible fitting part combines the good touch and sharp glow.
It is 40mm, but again, being future classic/vintage, heck, there are no Royal Orients being made now even, like the SBGH001, it is ok.
I distinctly remember handling one of these about 5 years ago when Yodobashi was selling them for approximately 2k USD. My thought then was Orient was going full GS with the finishing, it was just as impressive as Grand Seiko. The dial is quite large on the case, fwiw. But I was very, very impressed, which is why I still remember it 5 years later.
And the line disappeared after that, pretty much. Maybe they decided that competing directly against GS was not where they wanted to go. But this was the most GS-like Orient I ever handled in both finish and styling.
I figure there must be collector interest in this model because they are still going for pretty good prices. Minty ones go for ~2k USD, meh ones around 1.3k USD. I found two new examples, one at 3k, another at 5k, so again, clearly collector interest, at least in Japan market.
I'd also note that both the SBGA283 and SBGH001 have been purchased new from GS AD, under warranty, all that. For my rotation, I wanted pieces either brand new or with service history, not some orphan that has been floating around who knows where. Yeah, nobody ever worries about that stuff, but this is, like, my
rotation
, man.
I could almost see paying the 3k for brand new, but fortunately came across one purchased in 2016 with overhaul/maintenance in 2018 and has been sitting wrapped ever since. Higher end orients, they give you a free service at two years, although almost nobody takes them up on this.
This service includes a case refinishing, so a refresh on the the zaratsu by manufacturer is pretty legit.
So this is winging its way from Japan:
So this closes out a cycle for me. I've still got a few pieces to move, but that's all about where the collection has been. These three are the cornerstone of what I'm going to be wearing the next few years. I've still got a lot of collector interest stuff around and incoming, I think I'm going to start playing around with old King Seiko and Lord Marvel stuff, a lot of potential there.
My thought is Seiko will eventually revive those brands, incidentally.
And a Royal Orient as my bad boy black dialer. Royal Orient, and Orient in general, is Pachinko Parlor Japan. Just a side of Japan that is so normal to residents they don't even notice it but something foreigners have never seen before in their lives.
This model, despite its minimalism, retains a bit of characteristic Orient whimsy - Seiko lets Orient make all the jokes. The indices, hands, and dial are all slightly overlarge, slightly overdone for a plain salaryman special. Maybe a watch you'd see in
Who Framed Roger Rabbit?
Polished center links are going to look really great on this one
Last edited by
robatsu
on February 4th 2019, 3:03am, edited 6 times in total.