conjurer

(Online)

ASSHAT & Master of Time
Posts: 32712
Joined: July 13th 2010, 10:00pm
Contact:
Mary, mother of God, those (Germans) sure know how to build a boat.
They know how to build a watch, too. The Stowa Seatime: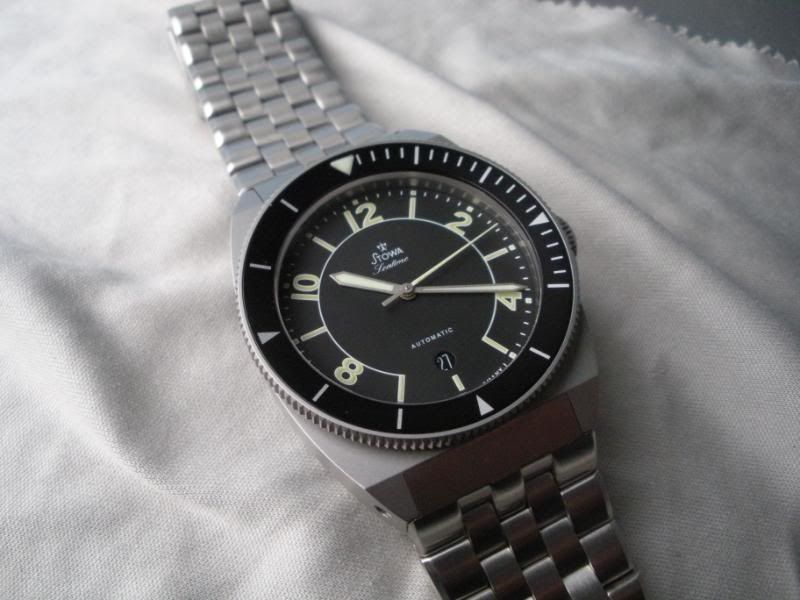 Pros:
Pretty cheap for a chronometer
Superb machining and construction
Excellent accuracy
Good wrist presence without being Invicta-huge
Cons:
Very long delivery times
No AR coating on crystal
Minutes hand rather thin
Bezel is very stiff
I got this watch in a trade with member Joe (CoachH). I'd wanted a Stowa for some time, but I was put off by the price (not cheap) and the very long wait times for delivery (from several weeks up to several months.) I traded it for my Doxa Sub1000T Divingstar, which is a wonderful watch, but I'd gotten rather bored with it over the last few months. We came to a deal and within a week the Stowa was on my wrist.
Stowa started up in 1927, founded by Walter Storz. It was purchased in 1998 by its current owner, Jörg Schauer. It was probably best known for its B-Uhr, or "observation watch," for the
Luftwaffe
in WW Deuce, a fact unsurprisingly not mentioned at the Stowa website. (B-Uhrs were also made by A. Lange, Laco, Wempe, and IWC.) The Seatime is one of the two sports watches that the company currently makes, the other being the Prodiver. The Seatime—more of a dress-sport watch, actually—is WR to 300 meters; the Prodiver is more of a tool watch, rated to 1000 meters. It also sports a HRV, is thicker, and has a domed crystal.
One of the nice things about the Seatime is that it's not just a homage to another watch; it looks pretty unique. The case, which is nice and chunky, is solid stainless steel, sand-blasted, and particularly nicely designed and machined into a cushion shape that, apart from the bezel and crown, doesn't look like it's got a curved line anywhere else. It reminds me of the bodywork on a Cadillac CTS, or, to be more jingoistic, an F-117 Stealth bomber: (I apologize in advance for the dust and poor quality of the pics)
Interestingly, the Doxa and the Stowa measure almost the same, case-wise. The Doxa is 42.5mm, the Stowa 42mm, but the Seatime wears larger—almost like a 44, while the Divingstar wears like a 40. The Seatime's case, like I said, is chunky, and it's also long, and it covers the top of my 6.75 inch wrist. Anyone with a smaller wrist should take that into account, as the overhang at the lugs might prove uncomfortable.
The dial is flat black, with a bare minimum of text: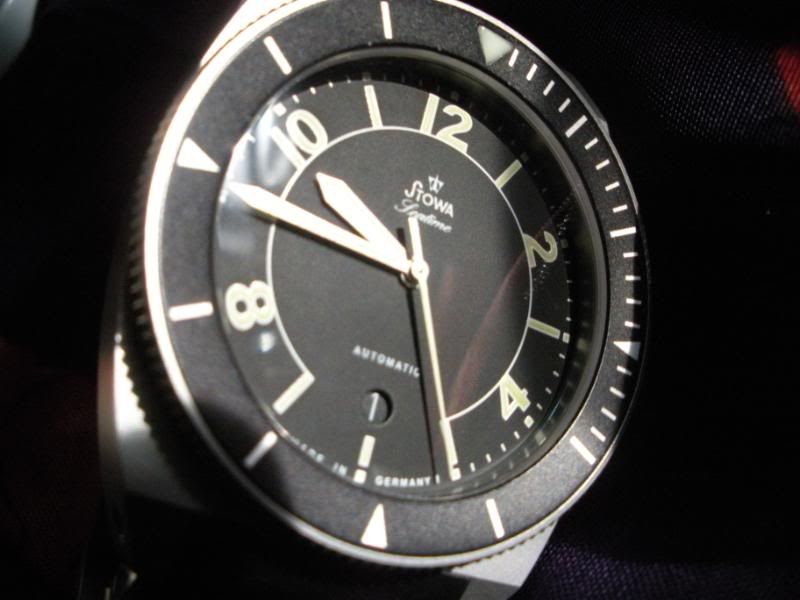 It is very legible in all lighting. The Superlumanova is quite good, and lasts all night. It easily passes my patented quick-glance-in-a-dark-car test. The minute hand, however, is rather thin, and dims faster than the lume-covered seconds hand.
The bracelet is quite good; it's a five row, brushed-steel beauty that is just the right thickness and heft to balance the watch. The links are screwed in with single-headed screws. The outside links also have a very nice bevel that adds visual interest:
The clasp is a standard stamped steel divers with safety; it also has a rather cheap diver's extension:
Like any other SS clasp, you may note, this one picks up desk-diver marks rapidly.
Stowa, like German luxury cars, tends to make buyers pay for their options. You want the base model, with a leather strap? That's $777 (at today's exchange rate; prices are posted in both dollars and Euros.) You want a metalbracelett (as the website calls it)? That's another $114 for you, homeboy. COSC movement? Cough up another $265, Yankee. As you can see, the prices start mounting up, BMW-like, PDQ. Luckily, the Seatime I got from Coach was fully loaded.
This is the first chronometer I've ever owned. I'm not sure if it's a "Top" grade or "Chronometer" grade, but it's an ETA 2824, and it's shore purdy:
I wasn't sure what to expect from it, accuracy-wise; I've owned plenty 2824's, and they range from great (my d.freemont Barcelona is about +3 seconds a day) to appalling. A couple I've owned were more than +10 seconds a day. The Seatime, which comes with the COSC cert, was better. Much better, in fact. I hacked it with my atomic clock the night I got it, and over the last five days it has lost one second—and that's not a second a day, either, but over the total time. I wear my watches all day, and only take them off for sleeping and showering; when off at night I put them on my nightstand, dial up. I noted a very slight loss in the morning, which was made back up during the day. Today, the fifth day I've worn it, is the first I noticed any deviation at all.
So, how does the Seatime wear on the wrist? It wears extremely well. I've noticed, with a few of my watches, that they simply seem like quality on the wrist. My Doxa was like that; so was my long time Rolex Air King. It's not just comfort, actually, although naturally all those were comfortable on the wrist. Perhaps it's a snob thing, but I feel better when I wear them. That's how the Stowa feels on the wrist, like a quality item that has been well thought-out, designed, and engineered: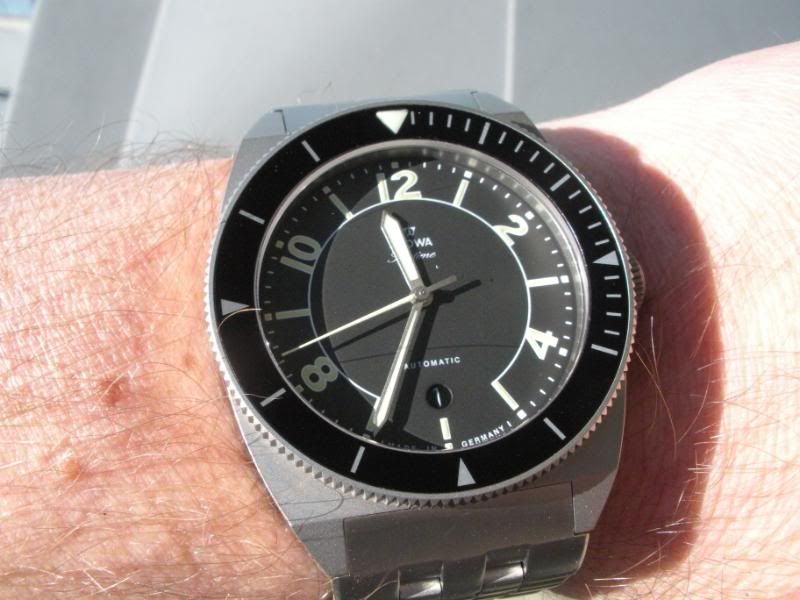 Thanks again to CoachH for a great trade. I'm perfectly happy with the Seatime.