Master of Time
Posts: 2431
Joined: June 8th 2011, 10:00pm
Facebook ID: 0
Location: Sun Diego, California
Contact:
I'm no wristwatch historian, just an admirer of cool timepieces and appreciate mid century design. Company and model backgrounds are from what I have read and learned through the years, mostly from the internet and fellow collectors. If anyone has corrections or additions, please post! All watch photos are from my personal collection.
Right-Click photos for an expando-view.
Welcome to the Space Age.
Today, I'd thought I'd step it up a bit with a horological icon, the Hamilton Electric Ventura. Debuting in January 1957, the Ventura was America's first mass marketed battery-operated watch. This model exposed me to the collecting bug. In the mid 1990's, I purchased a quartz Ventura "Registered Edition" based on looks only from a local department store. I soon discovered it was based on a model that existed many decades earlier. Once a little research was done, I purchased a couple unique vintage Electrics and never looked back.
_____________________
_____________________
Excited about its dive into new technological territory, Hamilton desired the Ventura's visual presentation to match the revolutionary electro-mechanical excitement held within. Prolific industrial designer, Richard Arbib, was tapped to design the infamous asymmetrical solid 14K gold case that perfectly reflected the design aesthetics of the mid to late 1950s: Think kidney-shaped coffee tables; car tail light fins; atomic-themed furnishings and decorative patterns. Arbib would move on to design other wild Electric designs, too.
_____________________
_____________________
Even with a steep selling price of $200, unproven technology and an over-the-top case design, it was extremely popular. Selling over 10,000 units, the Ventura was 'the" watch with hipster celebrities, creative types, forward-thinkers and mid century watch collectors. Rod Serling and Elvis Presley are closely associated with the model as they could be seen wristing them in public and within promotional photos, no doubt as an image enhancer. By contrast, a conservative solid 14K gold round case model, the Van Horn, debuted concurrently as an alternative for those who couldn't handle Ventura wildness.
_____________________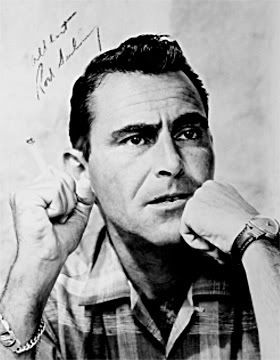 Mr. Serling with a watch that could have arrived from the Twilight Zone.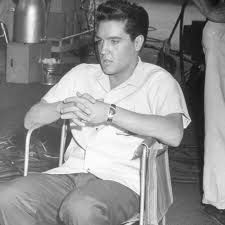 Elvis sporting a Ventura on the set of his movie, Blue Hawaii. Don't go surfing, King! The Ventura's water resistance? .000000125 meters.
A character from the TV series Mad Men receives a Hamitlon Electric as a Christmas present from a client. Though on screen for just a quick second, it is thought to be a Ventura by some. Based on the above screen grab, I say it's the Ventura's entry level, gold filled brother, the Pacer. It was offered starting late 1957 at a starting price of $110.00, and has a different lug configuration mated to the same asymmetric case shape.
_____________________
The somewhat fragile electric 500, 501 and 505 movements had a less than stellar service history that nearly bankrupted Hamilton, but that's a story for another time. It was soon upstaged by the more robust and accurate 1960 Accutron tuning fork electronic movement which in turn was overtaken by the late 1960s quartz movement that soon made these pioneering movements a distant memory.
_____________________
An example of a caliber 500 movement. Note its electrified mechanics -- no conventional electronics to be found.
_____________________
An early magazine advertisement for the new Electric line. Space age design for a space age timepiece. Courtesy of vintagepaperads.com.
_____________________
It should also be noted that Hamilton released the first LED digital watch in 1971 under the Pulsar name for $2,100.00 -- near the price of a new Chevy compact.
_____________________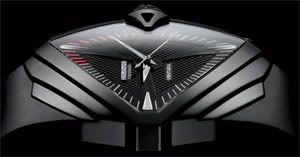 The most recent Ventura limited edition Anniversary model.
_____________________
Noting the public's ever-lasting fascination for the Ventura design, Hamilton released my earlier mentioned "Re-Edition" as gold plated/quartz model in the late 1980s which saw great success and launched other variations utilizing different finishes and colors.
Since acquired by the Swatch Co., the Hamilton's tradition of motion picture product placement is still active. The Ventura is the official watch of the Men in Black and other models pop-up regularly on your local theater screen. Swatch continues to offer the Ventura in various contemporary incarnations assuring it will be with us for generations to come.
Last edited by
Anonymous
on April 14th 2012, 4:08pm, edited 7 times in total.