Anonymous
Some thoughts on this piece.
My, what a big dial you have. It is just out there, and it is inky black and elemental with the stick indices, dauphin hands, a little label text and, unavoidably, the power reserve.
Apart from the power reserve, it is what kindergarten kids might come up with if asked to draw a watch face. Or a theater costume designer if the the script called for a black wristwatch on a character.
Big enough for the audience to see.
I don't think I've ever had a watch with a crystal this vast.
In principal, it is a smaller watch than SBGH001, at 12mm height vs. GS 13mm, and a shade narrower, 40mm vs. 40.3.
But the Orient inhabits a lot more of that rectangular box, between the ginormous flat sapphired dial and wide, Rolex-y maxi case profile, wide lugs, steep curve.
But it is a handsome devil, for sure:
After having this for a while, my thought is that Orient was going for a Rolex sort of vibe with this one rather than a Grand Seiko or haute horologie thing that other Royal Orients seemed to be channeling.
In this case, the refined toolish watch. Again, simple case design, but with some subtle grammar of design stuff.
Just a nice looking watch:
They did a great, super great job on the fitted lug ends, reminds me of my recently departed Submariner:
But therein lies the problem. Actually, part of the problem.
The first part of the problem is that the dial has so much drama and the monotonous 5 link has none. It is comfortable, traditional for Japanese watch, etc, but in no way matches the drama of the dial. So that makes the dial look even bigger.
Second, then, the lug ends are so well fitted that they look like part of the case. But the piece is cutout all the way back to the dial, in the modular Grammar of Design stuff, really classic in this case.
So with the fitted lug ends, it just looks like a dial too big for a conventional case. With a strap/bracelet that exposes the gap, I think this piece will look a lot better.
There is some Grand Seiko/Rolex schizo in this model, the great lug ends, but why a sedate 5 link? Something with a bit more drama, just a slightly beefier oyster with polished center links or something would have ended the design dispute.
Anyhow, the first goal is getting it off the 5 link onto something with a little more Las Vegas in it. This is definitely a Vegas type of watch.
So I ordered a Geckota tapered solid mesh. Not sure if this is going to work, specifically the taper from 20mm to 18mm and maybe the overall design is a little 50s TV dad, although I'm hoping the polished center counters that. The butterfly clasp is, well, fly and kinda Vegas:
Here is a pic of a brushed one: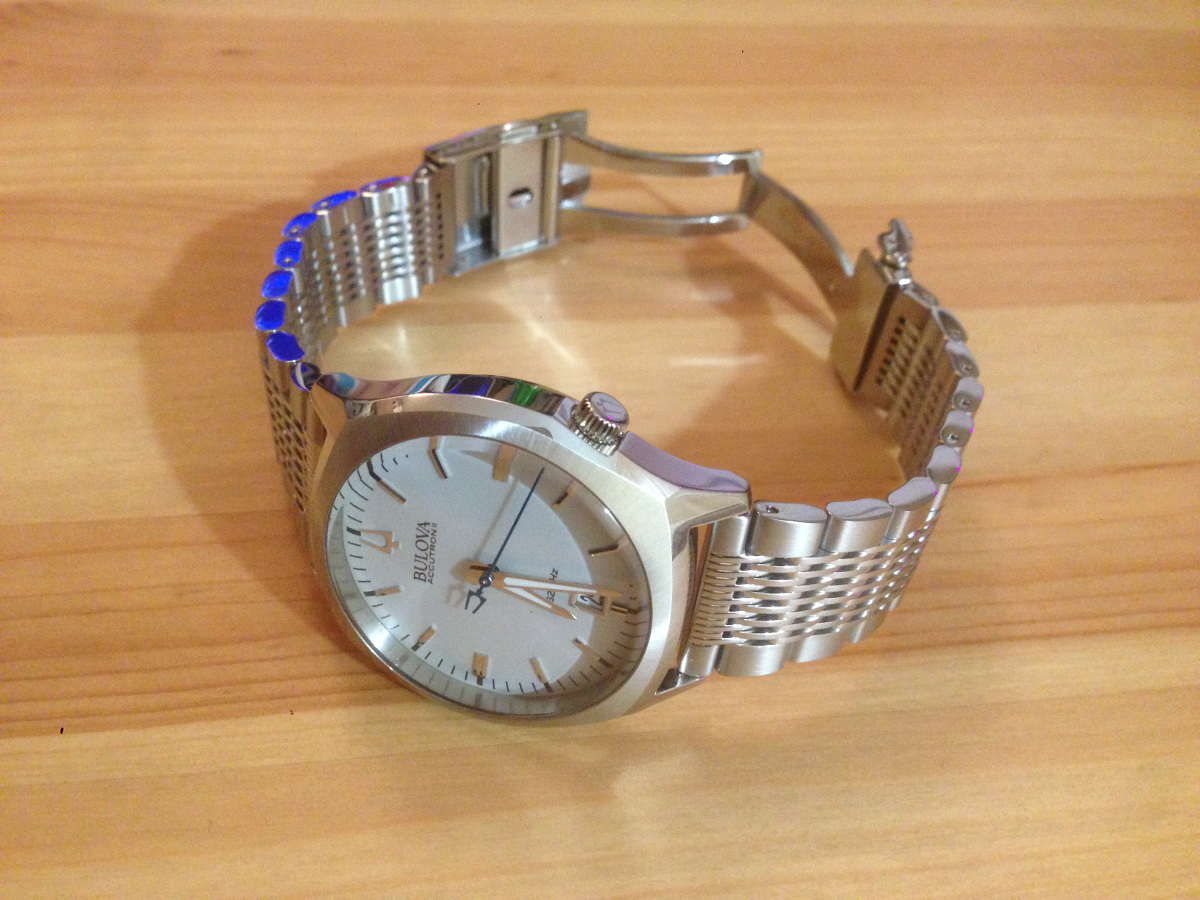 I don't know if that is going to be quite simplistic enough, if not, my next thought is:
Another reason to swap the bracelet is having expended bracelet budget on exquisitely fitted end links, the rest of the bracelet constructed in a manner like those in a train station kiosk. An Orient tradition is a cheesy bracelet and they did it here and I'd say it was purposeful, to do something this cheesy, one for the home team, cheapo Japanese bracelets:
The only Orient with a truly respectable bracelet that I can think of is the OS300, those are nice.
Anyhow, the giant dial, black/white contrast, exaggerated features, make this an extremely readable watch. So it is quite functional.
Timekeeping is about +5 spd, it was serviced just before I got it.
The movement, is a nice toolish one, competently decorated The writing on the dial is not just some pure white stuff, but kind of reflective, you can see it more at night. I'll see if I can get a picture.
Anyhow, interesting piece for sure. Reminds me of this: