ASSHAT & Master of Time
Posts: 4993
Joined: November 30th 2010, 11:00pm
Facebook ID: 0
Location: California
Contact:
Floyd is a Boxer Mastiff mix, he is huge and solid. He used to walk around the neighborhood, but would never come to you when you called him. I bought some treats and had to toss them to him because he wouldn't come to take them from my hand. For 6 months this went on. One day my nephew was over and just walked right up to him petted him. Floyd then came to me and was so excited to be petted and played with. Now he hangs out most of the time at my place or across the street at my parents place.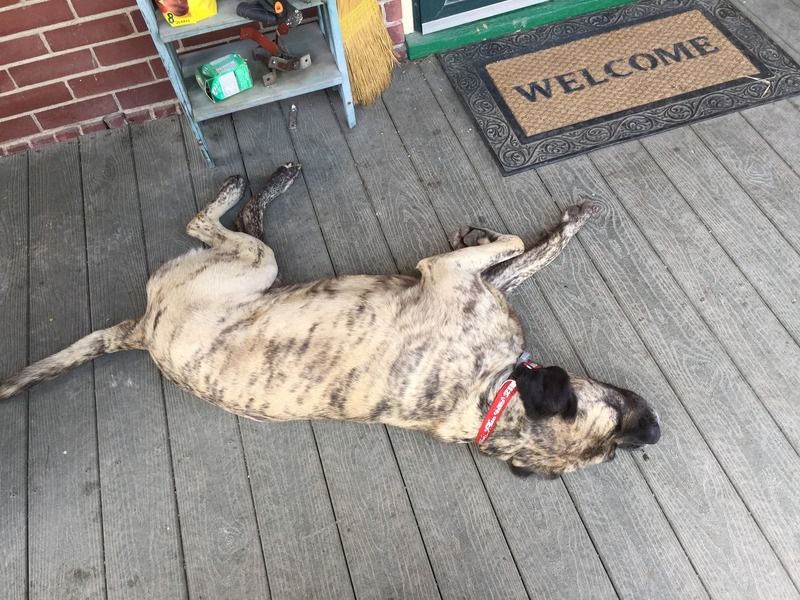 I started calling him Pretty Boy Floyd, I found his owner recently and found out his real name is Trooper, but I still call him Floyd.
My parents have a 17lb cat and Floyd pushed past me one day and chased him through the house. Bob (Blob) made it to under a bed to safety. We found out he just wanted to play with him, his owner has a cat and it's Floyd best friend. Bob still doesn't want anything to do with Floyd though.
Floyd never had a collar so I got one and put it on him so people would know that someone cares for him and he isn't a stray. He gets along great with Homie, but chases and rolls other dogs that come into the yard.
The owner offered him up to me, I don't have a fence or out building yet, so I said no. Once I get a fence I think I may take him. He is so sweet to people and plays with Ian alot. I was told he is a house dog, but I am real hesitant to have that drool in my home and on my furniture.
He knows sit, lay, speak and high five. His owner also has a cart he hooks him up to and Floyd knows what pull means. I am going to try him out on pulling me on my skateboard, that should be real fun.