Troll
Posts: 17978
Joined: June 12th 2010, 10:00pm
For the past couple of years, I've been posting things that happened during the previous year in early January as sort of a "wrap up" for New Year's - but this year, I'm going to break with tradition. Whadda I know, anyway; it usually ends up being a list of stuff you guys already know by heart.
So, after all these years on this forum, I'm going to let other consumers do the talking for me about what I honestly consider to be the worst watch ever sold, a complete, tasteless hunk of tin, a watch where its design flaw seemingly never is fixed by the very company that sells it, and something that everybody should avoid - and something that anyone who knows anyone else who'd consider picking one up should be discouraged from.
Those who are tired of IWG bashing should move on to another thread.
The words still echo in my ears:
"Ewww ... what is that
thing
?"
She was tall, she was perfect, she was dressed with just enough fabric for it to be legal, and for some reason, she was hanging with my group. During my musician days, I performed at many of the top venues in NYC. One of them was The China Club, and a bunch of us were just goofing around after a show in the late 90s. As it turned out, the young woman was a professional model, and the club always seemed to attract some rather, shall we say, attractive young people. A bunch of us were talking when someone from one of the other music groups, or maybe just someone's friend, was kind of talking with his hands, revealing a particular oversized watch on his wrist. The quote above was her reaction. I am a simple man; I only know what I see. At that time, I didn't know what the watch was or who made it - I just knew that it made one of the most heavenly creatures I'd ever talked to openly gag in front of all of us (and trust me, the fellow with the Chinese watch was plenty humiliated). Sure, she was being quite shallow ... but I forgive her because she was also right on the money: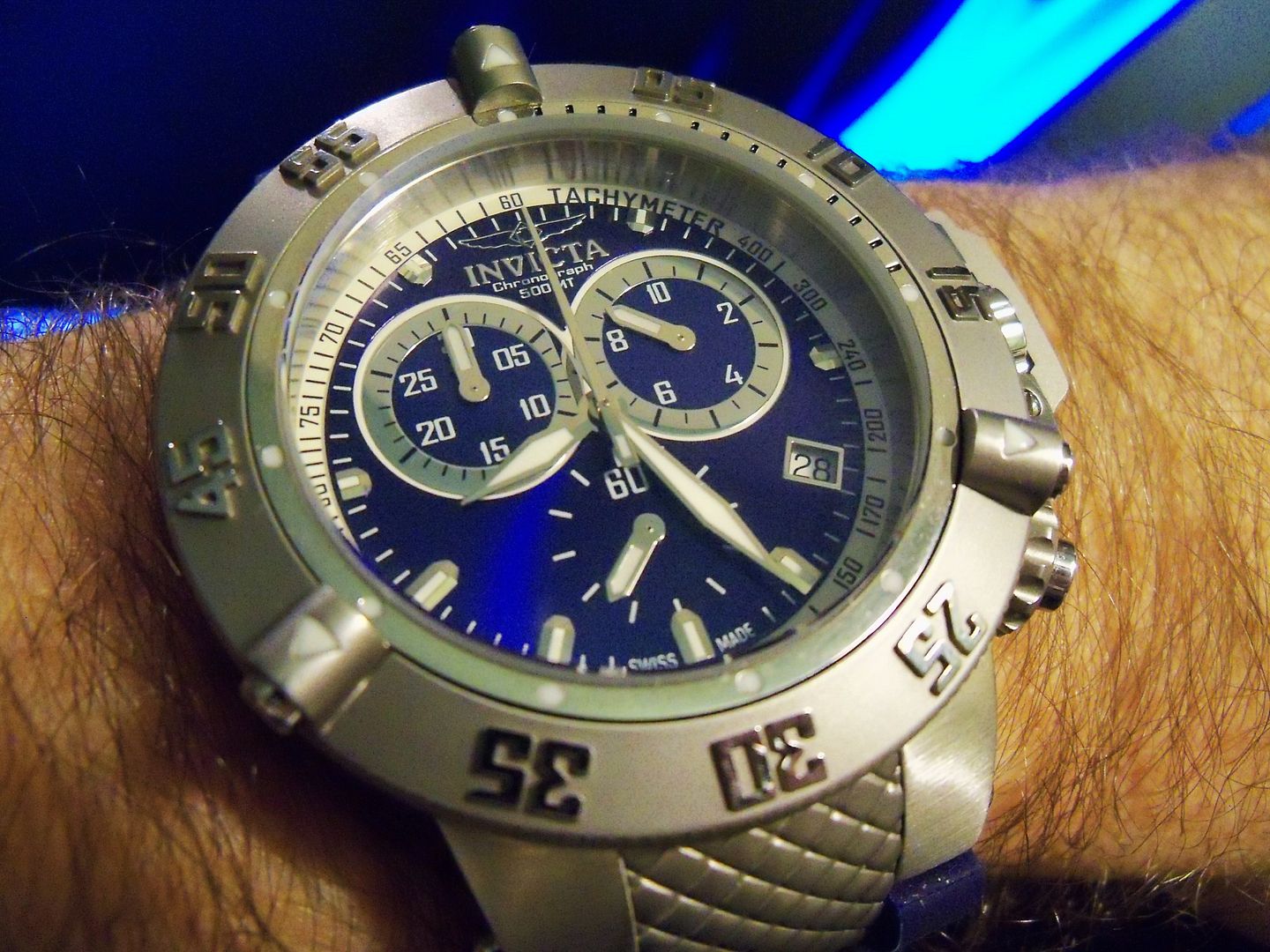 She was talking about the Invicta SubAqua III, the worst watch ever sold, for a myriad of reasons.
Well, hell yeah: It made a seeringly beautiful woman laugh out loud and think that a guy was sublimating, cock for watch. And I have yet to see the wrist that looks comfortable with this watch on it. It was the first clown watch at 50mm to actually gain a foothold in sales, or so we're all led to believe.
Most of the SAN III models - all 1,546,649 of them, a sure sign of quality - are just quartz watches, and perhaps they run well enough. But does Invicta's "exclusive design" warrant them selling for $200, $300, $400? Swiss Legend's similar Neptune is of better quality, and it sells for about $40 if you shop around. Croton's Super C, though from some reports nearly impossible to size thanks to gnarly pins, sold for under $100 as well. Sector makes a full line of sports/aquatic watches for about $75 that really rip IWG a new one. Stuhrling Original, yeah, I know, sells dive watches for $40 to $75 that are even better made. And let's not talk about Citizen, Seiko, and other legitimate watch brands that own their own factories and service their customers with care. So who falls for this stuff?
Oh, a lotta people. Too many people. They watch TV, they see that big, bold dial, and for some reason, this works for them. BIG!
Until they own one. The Invicta SubAqaua Noma III is the watch world's equivalent of the Ford Pinto. Top heavy as Show World Center's legendary headline performer Lotta Uptop, the flimsy "proprietary" bands that come with a lot of SAN IIIs are attached with screws that don't move. The thin rubber rubs against the screw (particularly during such mundane things as battery changes), and, faster than you can say "Toby Kimball was a bald NBA center," you have an ex-watch band, as it strips off faster than a headliner at The Cheetah Club when someone waves a twenty-spot at her.
And, oh, of course: Invicta doesn't warranty the bands that come with their watches. And as the collage of disgruntled customers below wil prove, once it's broken, the band just won't play anymore, for love nor money. You're left with a Flavor Flav-like dial that you can hang from your Johnson or display on your nightstand - but it's no longer a watch.
Here, the rubber frayed around the screw as a battery change was being made; it's the lower screw area where most of the problems seem to be stemming. The "repair" had to be made with a tube of 5-Minute Fix, a TV product that actually works (as the owner in no way was gonna do the IWG tango):
So am I making this stuff up? Is my longstanding disdain for all things "TV watches" blurring my objectivity?
I'll let other do the talking for me; I hope you enjoy this selection of POS owners from Amazon, Yelp, Consumer Affairs, and FixYa (all comments are about SAN IIIs, and not every problem was with the bands):
From Amazon:
From Yelp:
Some smart company has fashioned an after-market band that will fit SAN IIIs, since IWG seemingly leaves so many owners out in the cold:
Poor Cam got flim-flammed:
Yelpers really are irate:
Finally, a mish-mosh of happy IWG SAN III owners:

Our Forest Hills consumer should realize it's not the bands, it's the company: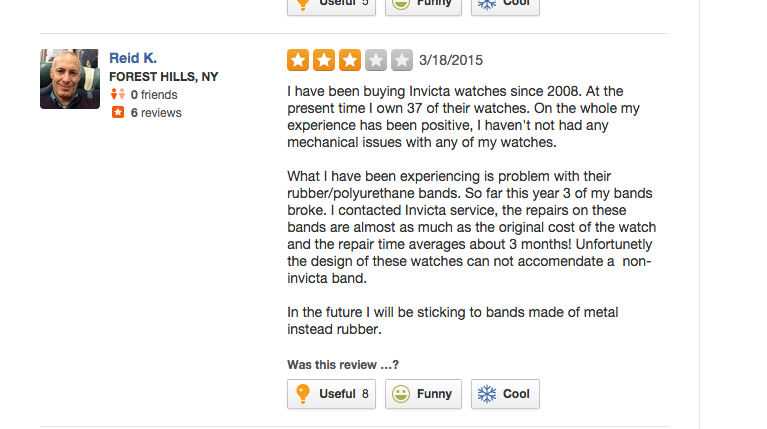 So, given the popularity - and cost - of this particular model watch, how can it be dubbed anything less than the worst watch ever sold?
I rest my case ... but I hope the Florida Attorney General doesn't rest her's.
"Funny how things that start spontaneously end that way. Eat a peach." - Neil Young