Founder
Posts: 46158
Joined: December 16th 2009, 11:00pm
Location: Oregon, Thanks for visiting! Now go back home!
Contact:
Attorney Confirms Some Stolen Rothstein Money Went To Business Partner

By Bob Norman
Thu., Nov. 19 2009 @ 11:01AM
Scott Rothstein's breakout month was October.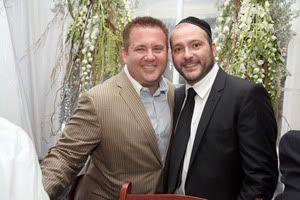 ]Rothstein with Ovi Levy
During that month, the Ponzi scheming lawyer raised $232 million in October only to wired it all out of TD Bank accounts into a dizzying maze of businesses, says Fort Lauderdale attorney William Scherer, who is representing clients claiming losses totaling about $100 million in the scheme.
There are numerous rumors about who may have been on the receiving end of Rothstein's stolen fortune, but Scherer confirmed only one recipient so far: Ovadia "Ovi" Levy, Rothstein's good friend and partner in the Renato watch company.
I left a message with Levy, who refused comment when I called him two weeks ago, today. Sources say Levy, who joined Rothstein last year in supporting John McCain to the tune of about $15,000, also allegedly had invested millions in Rothstein's scheme. Scherer declined to say how much Rothstein wired to Levy before he fled to Morocco.
Levy is the son of mulitmillionaire hotelier Shimon Levy, whose holdings include the Sea Club Resort on Fort Lauderdale beach. Shimon Levy has had known ties to major Israeli organized crime figures in the past, according to published reports. He once spent a year in Israeli prison himself for abetting two Israeli organized crime figures. In May 1997, Levy's partner in the Sea Club Resort in Fort Lauderdale,
Zvika Yuz, was shot in the face as he parked his car at the hotel. Yuz, who was himself involved in a huge Ponzi scheme, died a few days later. The suspect, who was wearing a fake beard and carrying a doll, was never caught. Here's a passage from a Miami Herald story published at the time of Yuz's death: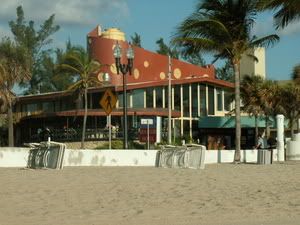 Ramada Sea Club (above)
"Shimon Levy, 50, a partner with Yuz at the Ramada Sea Club, said Yuz never mentioned that he was having a problem with anyone.
"I knew him for three years very well," Levy said. "And I don't see any reason for something like this. He's not a guy that deals with illegal stuff. He's a very straight guy. He's a good husband. He's a good father."
But Yuz, an Israeli native who lived in Miami, played a significant role in what authorities have described as one of the largest fraud schemes in Florida history.He was one of about 20 money men who in the late 1980s and early '90s recruited investors for the now defunct Premium Sales of Aventura. Federal authorities indicted 36 company employees last year alleging the company was a front to bilk 1,800 investors of $300 million. Yuz was not among those indicted.
Fort Lauderdale Police Detective Jack King has said there is no evidence linking the shooting to Premium, but investigators are exploring the possibility. Yuz's testimony did not appear critical to the case. Robbery did not appear to be the motive for his slaying, King said.
Levy said the killing must have been motivated by something that happened before he met Yuz.
"I think it's a past thing, either Premium or something from the past," he said It goes deeper. This from a Herald follow-up (the Sun-Sentinel, incidentally, had nothing on this angle):
A co-owner and Yuz's partner in the Ramada Sea Club Oceanfront Resort -- Shimon Levy, 50, now of Plantation -- came to the United States almost as soon as he was released from an Israeli prison in 1982. He was granted a visa because U.S. immigration officials didn't know of his Israeli conviction as an accessory to murder after the fact.
The case made national headlines in Israel and caused Levy immigration problems as late as 1989. Former Israeli president Chaim Herzog ordered Levy's criminal records destroyed that year for unexplained reasons. But those records turned up later in a New Jersey civil case against Levy.
Those records also reveal earlier Israeli convictions against Levy for tax evasion, insulting a police officer, giving false testimony to a police officer and suborning perjury by urging a police officer not to prosecute an acquaintance.
Both Shimon Levy and Yuz are alleged to have had ties to major Israeli organized crime figures. Former Miami Herald investigative reporter David Kidwell did an extensive investigation into the murder and those ties. Key passages:
Federal authorities are taking seriously an informant's allegations that his murder was tied to South Florida's Israeli underworld -- a complex enterprise allegedly orchestrating the movement of millions in ill-gotten drug proceeds through a myriad of businesses here.
``They have all this drug money they need to clean, and they are looking for any cash business to funnel it through,'' said the federal informant, who has already pleaded guilty to his role in the money laundering. ``Jewelry stores, T-shirt shops, restaurants, strip shopping malls, flea markets, everything. This is just the tip of it.''
... Isaac Benarroch, 64, was being sought for questioning in Yuz's murder because of some threatening letters he sent Yuz four years ago.
Police also suspect that Benarroch shot at a building owned by a friend of Yuz when he was trying to retrieve $600,000 he had lost in a failed investment scheme promoted by Yuz.
Benarroch's partner in a Venezuela tennis club, Ricardo La Bergere, was also shot execution-style in West Palm Beach in February. Neither of the killings has been solved.
Benarroch was a sworn enemy of Yuz. U.S. authorities are more interested in Yuz's circle of friends and their associates, many with ties to a famous list of 11 top Israeli organized crime figures.
The list, leaked to newspapers in 1977 by the Israeli national police, became a news event of Watergate proportions in Israel. Many of those with ties to the list, all proclaiming their innocence, left the country and settled here.
Their business relationships are complex, extend into many facets of South Florida life and have attracted the close attention of investigators.
Among those linked to the infamous list of 11:
Eli Tisona, now in the federal lockup in Miami awaiting trial on money-laundering charges; his brother Ezra, convicted for his role in corruption at the flea market; Shalom Genish, a partner at the market and the target of numerous federal probes; and Shimon Levy, Yuz's partner in the hotel.
Yuz's partner in the Ramada, Shimon Levy, has his own ties to the list of 11. Levy lives in a Plantation house built by Genish and spent a year in Israeli prison in 1981 after he helped hide two top organized crime figures wanted in a grisly double murder in Israel.
Both of the crime figures, eventually sent to prison for the murders, were on the list of 11. Levy did not return Herald telephone calls.
These are interesting ties, especially considering the rampant rumors surrounding Rothstein, but there is no evidence that there are any current ties and there certainly hasn't been any evidence surface to date showing any of the stolen Rothstein money ended up in the hands of organized crime. The reason for Rothstein's alleged payments to Ovi Levy could be simply that he wanted to reimburse his friend for the ripped-off investment. Answers should come in due time.
http://fwix.com/share/50_0a57af0653
http://afrocubaweb.com/news/elevengangsters.htm
http://en.wikipedia.org/wiki/Scott_W._Rothstein
1946-2006

"Your heart was warm and happy

With the lilt of Irish laughter

Every day and in every way

Now forever and ever after."