conjurer

(Online)

ASSHAT & Master of Time
Posts: 33030
Joined: July 13th 2010, 10:00pm
Contact: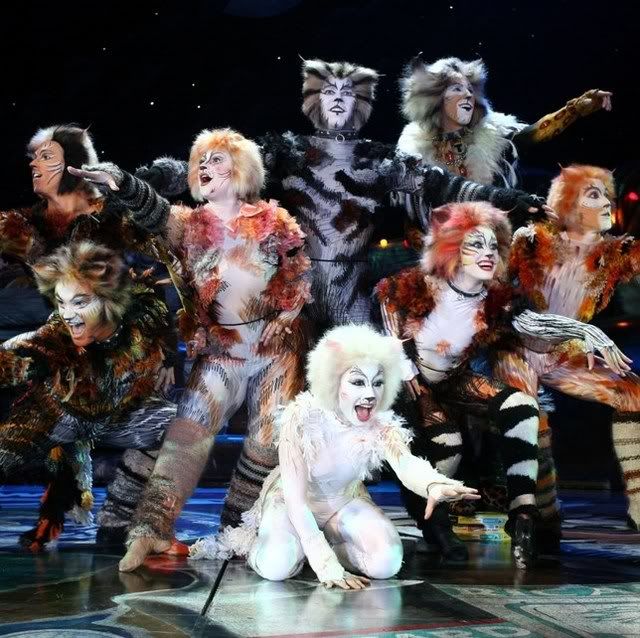 It can't get any worse than this. Oh, yes it can!
This is part 3 of a strange crusade that I'm on, trying to find an automatic watch that costs a hundred bucks (or less) that's actually worth owning. So far, I've trashed Stauer:
http://bdwf.net/forum/showthread.php?t=79892
and been rather impressed with Tiger Concept:
http://bdwf.net/forum/showthread.php?t=80822
The standards I've set are pretty easy: 1. The watch must be an automatic or mechanical and 2. It must have a street-price of a hundred bucks. Now, there are watches out there that fit the bill, like a lot of Seiko 5's and a few Orients, and perhaps a couple of other Japanese brands as well. Naturally, we're not likely to find anything Swiss that fits the bill, which leaves us with Chinese.
And so this brings us to the strange Orange world of Stuhrling Original, which tends to be anything but original. I'm not really sure of the brand's history--or lack of history, since, like many mushroom brands, it might have been a real manufacturer once that went out of business and then the name was bought up by some enterprising fellow. I don't personally care, since most of these histories are BS anyway. SO has been around for a quite a while, though, and it seems to be sold mainly through in-flight magazine ads as well as on ShopNBC on TV. I bought the model I'm reviewing from Shop.
It comes in a large layout box, and the presentation isn't bad: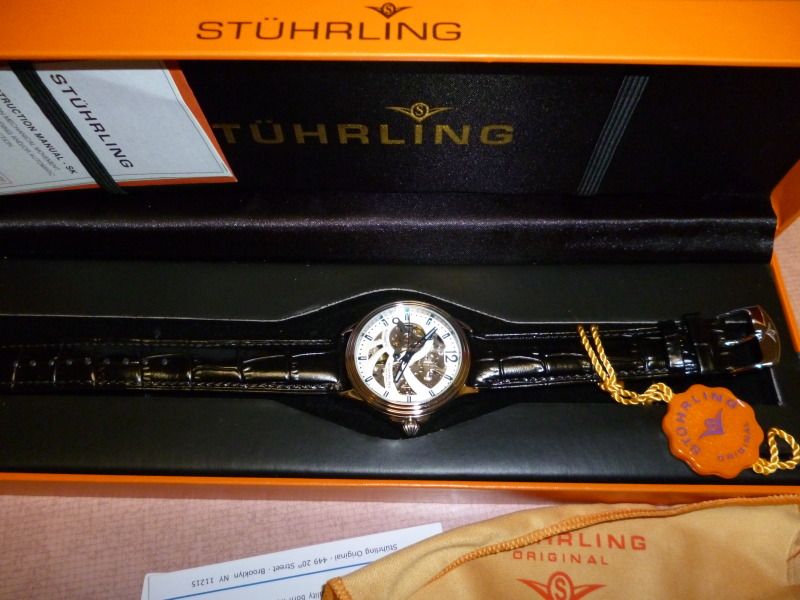 The mouthpiece for SO is a bouffant-haired slick-but-fading hipster named Larry Magen, who has pitched for the company for the last several years on Shop. He often makes a big deal about the packaging, saying it looks like something one would get an expensive bottle of liquor in--if only this was true. The outside of the shockingly orange box bears a weirdly faint impression of "Max Stuhrling", who, I suspect, is like Betty Crocker in that he's a fictional character. However, Max lets us know that "Stuhrling Original is a vision whose rich historical roots date back centuries, but whose true success lies in a revolutionary philosophy and strategy, being developed in this very decade."
If you get through this opaque statement, there's more: "Stuhrling Original is an intimately exclusive timepiece intended for seekers of originality and individuality. Every Stuhrling Original creation is defined through the watch making tradition of technique, technology and craftsmanship, yet sports an artistic edge that redefines perfection." Big words, not necessarily making sense, but SO shoots for perfection, and we haven't yet even opened the box!
It would have been better if we hadn't, but being the credulous optimist that I am, I cracked open the layout box, breathlessly looking for perfection. Instead, well, I found a Stuhrling: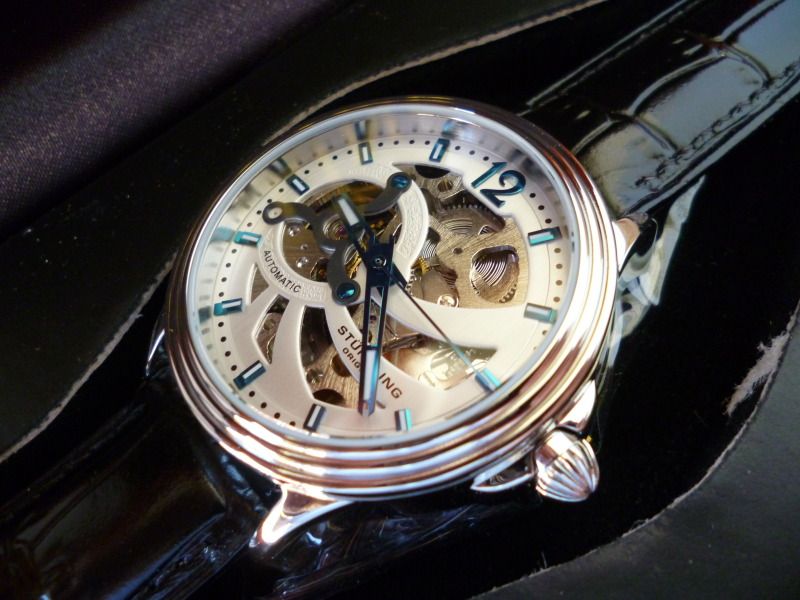 I'm not sure what grandeloquent name SO came up for this one; there's no model number on the back, so it might have been some short run they came up with to sell on Shop. It cost me $81 shipped, which naturally took over a week, since it came from Shop (compare this to four days from Japan and five days--including customs--from Switzerland). It's an automatic skelly with a Sea-gull movement (SO calls it the ST-90050 20-jewel; I don't know if that's the original Sea-gull caliber or if SO renamed it) in a 40mm stainless steel case.
Even with the plastic mummy wrap on, the experience of beholding the watch is underwhelming. It looks like those no-name skellies you can find on ebay for $30-40, and might well come from the same sweat-shop factories where these things are cranked out. Apparently, SO is making a high-end line in Switzerland, but this homeboy ain't one of them. Taking a closer look at the dial with the plastic off, we immediately see a defect:
Looking closely (and I didn't notice it at first; I posted some pics at a forum last week and an eagle-eyed member pointed it out to me) at the blue triad-thing over the balance wheel, the screw (or decoration) on the chapter ring between eight and nine is gone. Where it went, I have no idea; I couldn't find it rattling around inside the case, bunging up the mainspring or the balance, so I suppose it could have been worse.
Naturally, things don't get much better with closer examination. The side of the case:
Shows circus-mirror polishing. The case is also quite thick, 14mm, which is thicker than my Sumo, makes the watch look out of whack, as if the proportions were off. Looking at the back: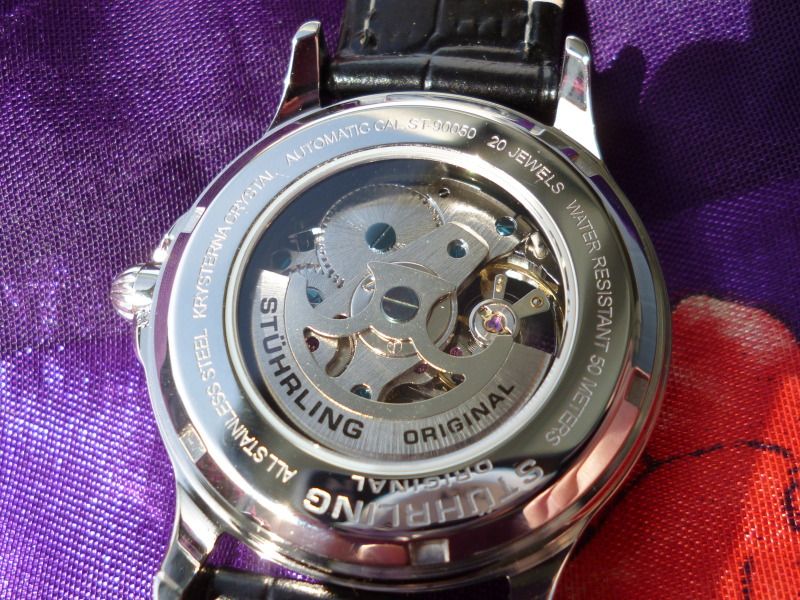 We see some actually decent engraving, but looking at the movement: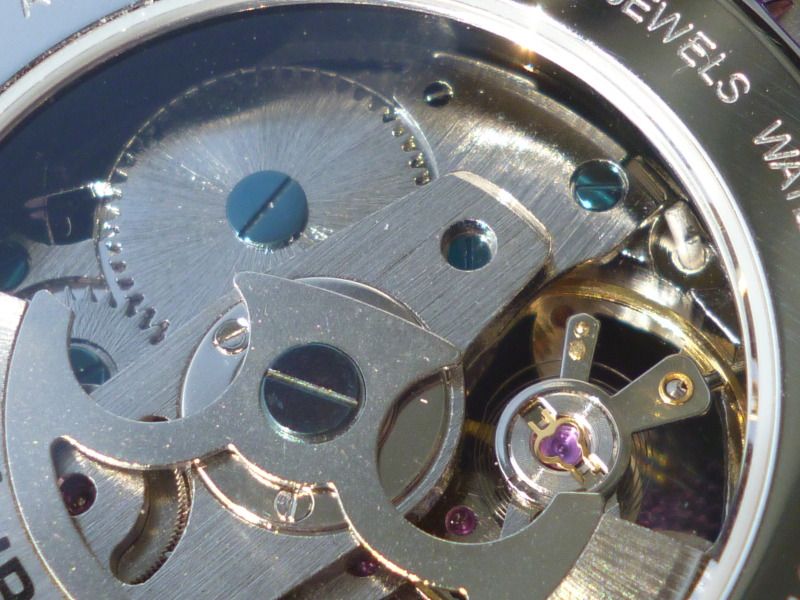 We see a bog-standard Chinese skelly movement, with some half-hearted engraving--more like corrugated steel, really--with faked blued screws. The entire thing looks, honestly, like garbage. It seems to be made to fool people who are looking at your wrist from a few feet away into thinking that you spent more on it than you did, which kind of meshes well with ShopNBCs core demographic. Interestingly, there seems to be a metal movement holder inside the case, which is a nice touch at this price point.
I haven't worn the watch (since I intend to send it back for a refund) apart to strap it to my wrist once. The strap is like metal, too; it looks OK in the box, but on the wrist it's like a handcuff. It sits off the wrist like a brick:
Obviously, a watch like this with some decent workmanship and a good movement would run much more money; you pay eighty bucks, you're probably going to get a turd, and a turd is what this one is. I did wind it, and the winding gears sounded like a coffee-grinder, and the grittiness of the action literally set my teeth clenched. Setting the time was difficult, because the crown feels too tight, and I'd expect this watch to break very quickly.
Overall, a revolting failure; I've owned one of Stuhrling's quartz chronos I got as a gift way back, and it was OK. I've also bought a couple for Mrs. Conjurer, and she seemed happy with them, in that they were cheap quartz fashion watches. The problem with this one is, like so many cheap Chinese-made autos, is that instead of keeping it simple, stupid (like the Tiger Concept) SO's designers tried to get clever, and failed miserably.
In the words of Larry Megan, I'm listening to the right voices so I'll make the right choices. The watch is going back for a refund. Steer clear of these, folks!