Master of Time
Posts: 2431
Joined: June 8th 2011, 10:00pm
Facebook ID: 0
Location: Sun Diego, California
Contact:
I'm no wristwatch historian, just an admirer of cool timepieces and appreciate mid century design. Company and model backgrounds are from what I have read and learned through the years, mostly from the internet and fellow collectors. If anyone has corrections or additions, please post! All watch photos are from my personal collection.
Right-Click photos for an Expando-view.
_____________________
Hamilton designers were space cases.
In the mid-1950s, the space age shook hands with the atomic age and the public was the beneficiary in how it effected society's creative forces. Think kidney shaped coffee tables, atomic patterns printed on kitchen Formica and other designs that transformed everyday items into spaceport instrumentation.
If you appreciate mid-century industrial design, you have to give the classic Hamilton company a standing ovation. The early Hamilton Electric series is the company's most famous model line for presenting the weird and wacky to the watch wearing public, there was a method to the design madness: Exteriors were designed to bring attention to the equally unique, innovative and revolutionary movement held within. The 1959 solid gold and asymmetric case Ventura was the epitome of this plan (see my previous Ventura post for an overview). In 1960, Accutron would soon follow suit with their more robust caliber 214 tuning fork movement housed in unusual cases, too, some aping Hamilton Electric designs.
Living in the shadow of Electric case designs are a handful of classic and in most cases, lesser known
mechanical
asymmetric designs that attracted buyers who enjoyed high visual impact on the wrist but were not yet ready for a battery operated timepiece. The Flight Series may be the most recognizable, but it's not the most collectible. Looking like it just arrived from Mars to many, the 1960 Automatic K-475 is the holy grail of all Hammies. The last one I followed at auction fetched many multiple thousands of dollars -- and that was nearly ten years ago.
_____________________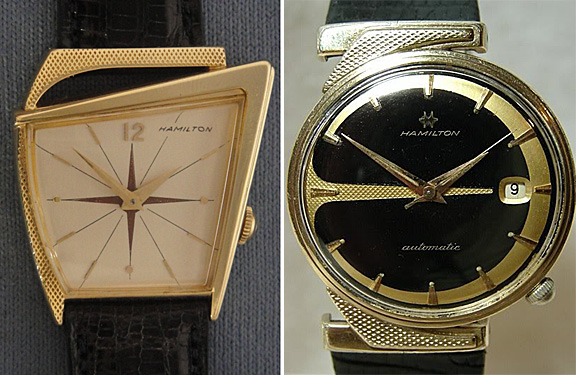 Left: 1960 Solid Gold Flight I; Right: 1962 Automatic K-475. Images courtesy of the web.
_____________________
Not nearly as valuable, but still fascinating to look at and fun to wear is a grouping from my collection including the only stainless steel mechanical asymmetric Hamilton made: the very rare and highly sought-after Accumatic A-504.
_____________________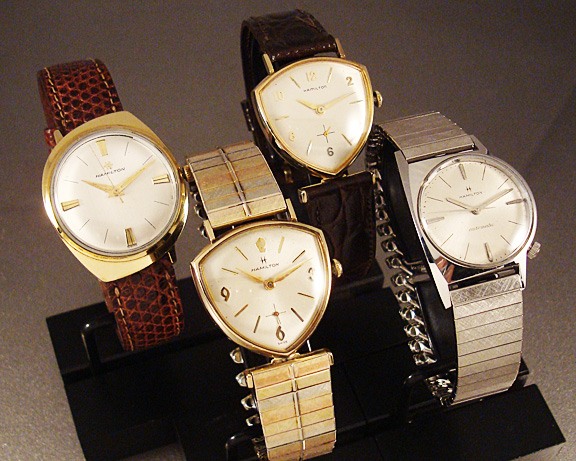 Back Row Left: A rare 1960s Euro market Assymetric; Back Row Right: 1959 Thor I; Front Row Left: 1964 Thor II; Front Row Right: 1965 Accumatic A-504
_____________________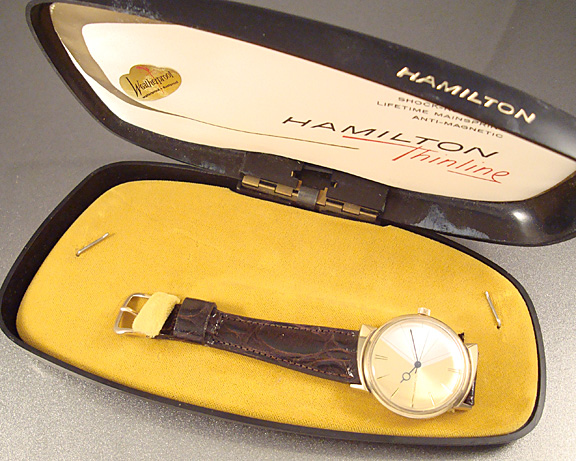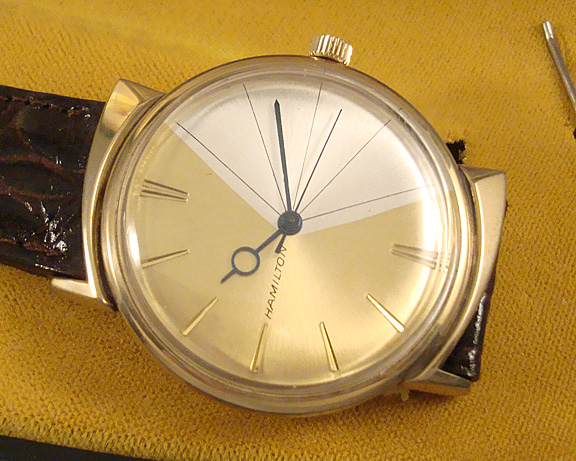 1960 Thin-o-matic T-403: The only variation within the model line to venture outside a conventional round case shape.
_____________________
Taken from the group photo above, The shield-shaped Thor II is the sequel to the popular gold filled Thor I model. Its rolled gold plated case houses a Buren Swiss Made mechanical movement. Scarcer than the Thor I, it offers a yellow, rose and white gold multi-tone bracelet which is phenomenally rare to find in reasonable shape today. Most original Hamilton dress and casual watch bracelets are expanding scissor style and were broken then thrown away over the years. It's quite striking, no?
_____________________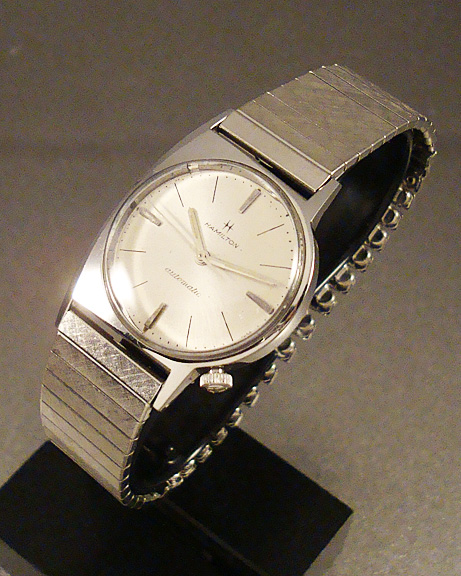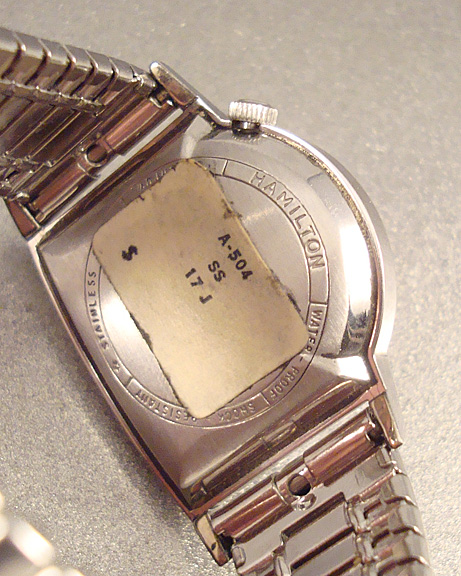 Also highlighted from the grouping above is the Accumatic A-504. Within the collection, it's probably the most interesting to vintage Hamilton fans. The 1965 A-504 is the only stainless steel, mechanical movement and asymmetric case model the company made. History states that after the Electric Regulus model was retired, management decided to recycle the small leftover case stock by installing an automatic movement and reselling it as a new model, the A-504. Originally, the Electric Regulus had a snap-on case back. For the A-504, Hamilton's production team soldered the back onto the case which transformed it into a "front loader" with a removable crystal and winding stem. Because it was nearly an "after thought" model that was made only until the cases were used up, very few were produced and are very hard to find to day. This example is NOS complete with original bracelet and case back sales sticker.
_____________________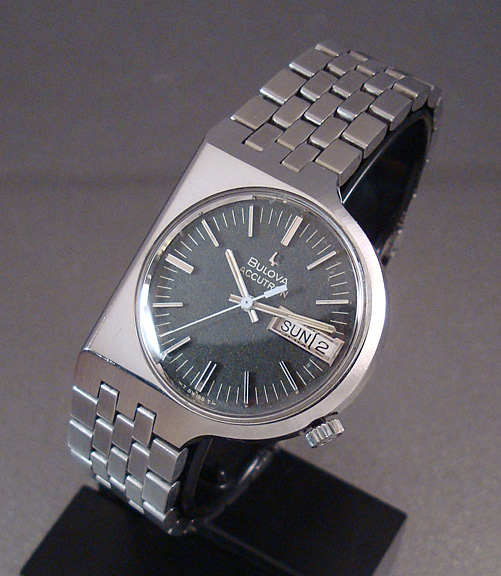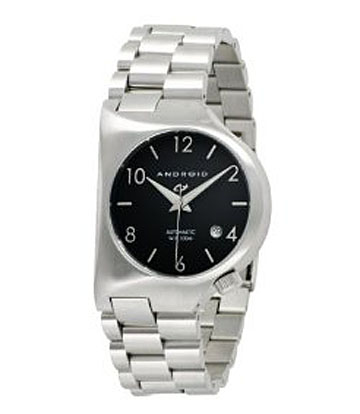 Above: The original Regulus come A-504 influence can seen in Accutron's highly collectible mid 1960s "D" model and Wing's Android Dominatore.
Last edited by
Anonymous
on March 11th 2012, 6:22am, edited 13 times in total.