Master of Time
Posts: 2431
Joined: June 8th 2011, 10:00pm
Facebook ID: 0
Location: Sun Diego, California
Contact:
I'm no wristwatch historian, just an admirer of cool timepieces and appreciate mid century design. Company and model backgrounds are from what I have read and learned through the years, mostly from the internet and fellow collectors. If anyone has corrections or additions, please post! All watch photos are from my personal collection.
Right-Click photos for an Expando-view.
_____________________
Ah...no, ShopNBC sales guy. It beat Invicta by over four decades.
In this post, I would like to highlight one of my favorite Hamilton watch designs, the Dateline TM-6907. This mod model is so rare that it's extremely difficult to find accurate information on its build year(s) and collectors' thoughts considering the out-of-the-box design. I'm guessing a release in the mid to late 1960s. The Swiss Made automatic 603 movement was most likely made in the Buren facility, a watch company Hamilton bought in 1966 to help counteract the battle against and eventual loss to Swiss movement imports. By the way, Hamilton
never
produced an American made automatic movement. They were all Swiss imports. Since the TM-6907 dial states "Swiss Mov't", the movement was cased and inspected in the good 'ole Pennsylvania plant.
_____________________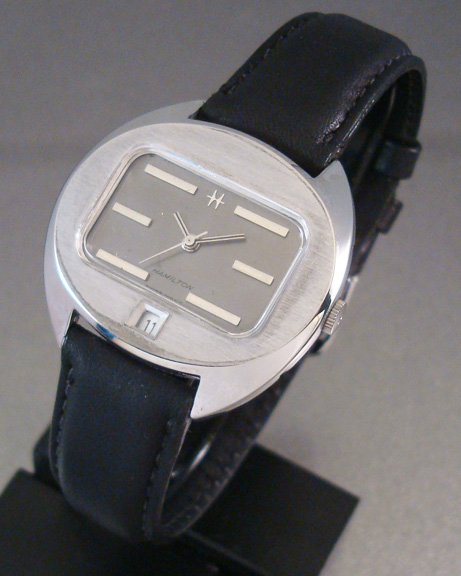 The TM-6907 automatic with sub window date.
_____________________
Being a fan of mid-century design, its general aesthetics makes me a fan, of course, but there is one feature that is an immediate stand-out to anyone: A separate crystal-covered date window. The execution is brilliant: Create an illusion for the average watch wearer that there
must be
special movement engineering to accomplish such a complication. In reality, other than the case top, the watch as a whole is rather conventional. The standard date wheel graphics were altered to accommodate a six o'clock view and the case top provides two crystal covered dial openings with the bottom exposing the date. Note how the upper dial is sharply horizontal and its hands shortened to allow for the standard date disk position below. No real tricks here. Just a little design imagination.
_____________________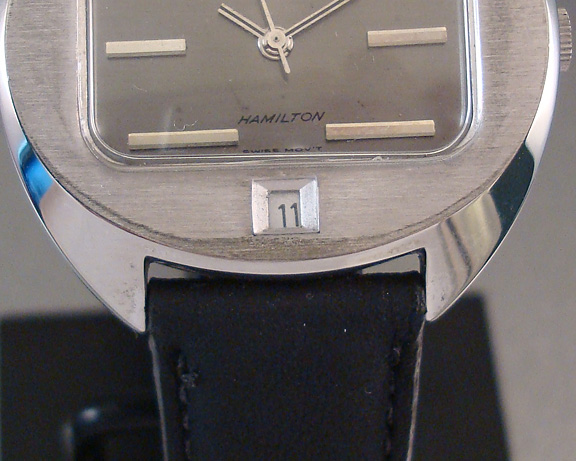 No special engineering here. Just a little creative design and manufacturing.
_____________________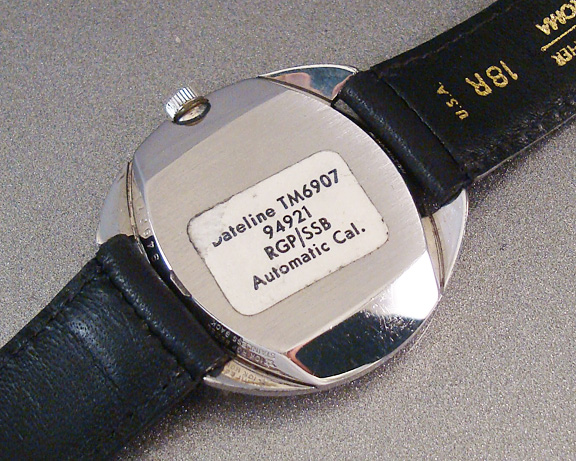 This example is NOS complete with the original sales stick intact. The strap in not original. The white rolled gold plated case, not gold filled, helps date the watch to a mid to late 1960s offering.
_____________________
Above is the Hamilton Swiss Made 17 jewels 630 automatic movement. Note the cool micro rotor that enabled the watch to be thinner than the usual automatic. These movements were appropriately labeled Thin-o-matic. Despite emphasis on thinness back in the day which the Thin-o-matic helped Hamilton accomplish, the rotor size and off-center placement created an inherent design flaw that did not allow for the same rotation as more traditional designs, thus creating potential winding unreliability.
_____________________
I found it amusing that when the Invicta Prowler Skeleton was first introduced a couple years ago, ShopNBC's head honcho sales personality allowed Invicta to take credit for introducing this separate case aperture date display. He would sometimes back-peddle a bit and add "to my knowledge it hasn't been done before". To "your knowledge"? It appeared to many, your study of horology dates back as far as when you left a cigar forum and bought your first Invicta Miyota Pro Diver. It doesn't take much intelligence to realize absolute innovation doesn't exist much within modern mainstream watch design (please note I have stated "mainstream"), especially from a derivative company such as Invicta. Even after posting a rebuttal on WGs using a photo of this Timeline as an example, my case fell upon blind eyes and deaf ears.
_____________________
The Invicta Prowler Skeleton: "The first ever watch to present a case sub date aperture". Ummm...don't think so.
_____________________
And was Hamilton the first with this date display design? I would say probably not.
_____________________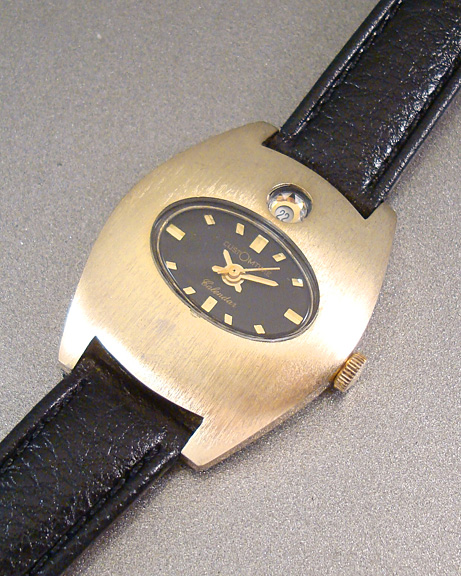 One of several odd and old watches in my collection with a cyclops date display that may debuted before the Timeline. I'm sure other examples abound.
Last edited by
Anonymous
on July 25th 2011, 8:39am, edited 6 times in total.