ASSHAT & Master of Time
Posts: 29584
Joined: July 13th 2010, 10:00pm
Contact:
Apparently, in 2010 I had a lot of time on my hands. Another Eyal story from BDWF.
Circles within circles, wheels within wheels; this is what the history of Invicta seems to us. Trying to get any sort of reasonable answer out of the IWG is rather like trying to pull a tooth from a nasty old hobo bum--it's possible, but why would anyone want to do it?
Well, I thought I'd give the homeless dentistry a shot--after all, me and Eyal are like
that,
and the big story lately seems to be about the Russian Diver that Eyal's grandmama supposedly made for the stinking Red Commies back in the late 1950's or whenever it was supposed to be. That's really the whole backstory, too; JS and MD and Eyal really,
really
like telling that story on air at Shop, as if anyone who'd wear a Russian Diver was even
born
during the days of the Evil Empire, much less care about it.
Lately, however, some pioneering private eyes of the internet have found that Eyal's Big Russkie claim is pretty much totally unfounded. Apart from a case shown once on ShopNBC, there's no actual paperwork, recollection, sales documents, of an Invicta Specially Made for the Godless Commies Diver's Watch.
Until now.
I gave Eyal a call this morning, and he emailed me some astonishing pictures and documents to support his ascertations. And so, we shall proceed.
Eyal's Grandmother
This is perhaps the most shocking part of the entire story. Eyal's grandmama, as he likes to call her, was actually Lotte Lenya, famous Austrian singer and stage actor, now known primarily for her role as Bond villainess Rosa Klebb in
From Russia With Love
: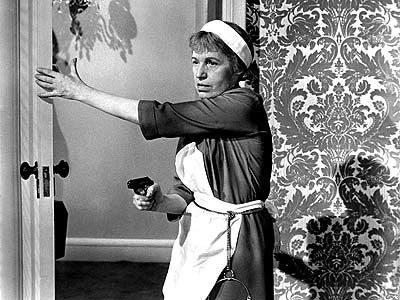 Grandmama Lenya, menacing with a Walther PPK
Not only this, but Grandmama Lenya was so absorbed by the experience of playing Klebb that she actually came to believe that she was a Soviet spy, as SPECTRE didn't really exist. She even started wearing the famous shoes from the movie with the blades in them:
Here's Grandmama Lenya, either deploying the shoe-blades or suffering a mini-stroke.
Grandmama Lenya also started to hang out with shady characters who
may well
have been Soviet agents as well:
The fellow on the left is thought to be Shawn Wilsie's grandfather.
Naturally, being confronted with this sort of BS from Eyal, I was naturally offended that he thought I'd be stupid enough to buy it from him. Then, yet another picture hit my email:
Documentary proof! A picture of Lotte Lenya with a young Eyal!
Naturally, I needed something even more convincing from Eyal other than what might well have been doctored photos. He then sent me an actual sales receipt for the Russian Divers:
INVICTA WATCHES
SWITZERLAND

SALES RECEIPT


For the delivery of one hundred (100) big diver watches to the Russian Navy to be awarded to all the officers that Stalin didn't send gold-mining in Kolyma.

Signed, Grandmama Lenya.

Dated: 09/05/59

The Michael Davis Connection
As if all this wasn't enough, it turns out that the hulking Technical Brand Manager also has ties to the Lalo-Lenya family. His great uncle, Ravi Chancre, was actually Grandmama Lenya's bodyguard. Only one picture survives of Ravi:
MD's great uncle Chancre, who was unmistakable in his turbin and outlandish shiny blunderbuss.
Hopefully, this will also put to bed the idea that MD is nothing but a kielbasa-fingered stooge of Eyal's. They have quite a family history together.
And to keep the James Bond-theme going, here's a picture of the late, great Nicky Hayek, throwing his hat like Oddjob: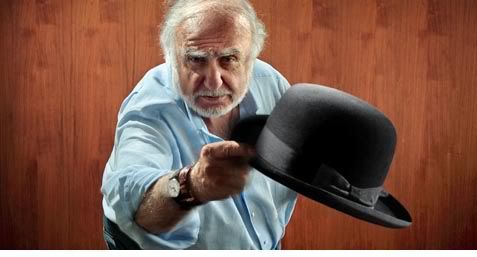 I hope this makes everything clear.
Cream rises to the top while jackoffs only leave puddles of rancid jizz.


--Temerity, regarding Bazinga!.